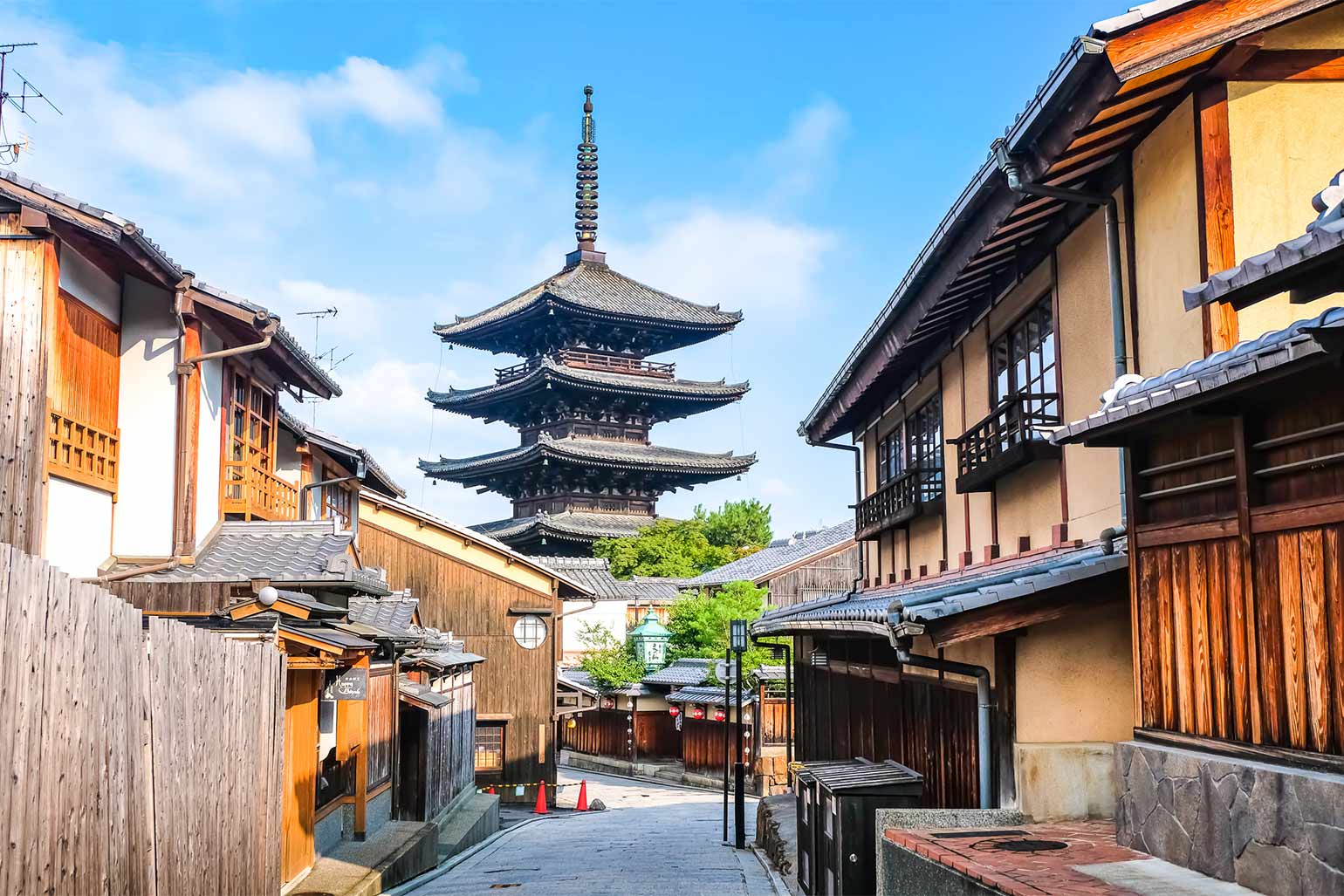 What is the first thing that floats to your mind when thinking about Japan? For some people, it will be a city with temples, shrines, and tiled roofs, with a castle overlooking it. Maybe with the addition of a samurai holding his sword and surveilling the city… The archetype that embodies this semi-real scenario is arguably "Kyoto". The above depiction of "Kyoto" has been propagated at the end of the 19th century when "Kyoto" was the political center of Japan and movies and novels that included people and events happening in "Kyoto" became extremely popular amongst Japanese people. That was the time when a peaceful era of over 250 years under the Japanese Shogunate came to an end, and the rapid modernization process started. "Kyoto", which historically has seen scenarios of both ruin and blooming, remains a place which is full of charm.

The history of "Kyoto" harks back to the end of the 8th century. As the first character of "Kyoto", "kyo:京(means imperial capital)" gives away, the city of "Kyoto" was first created to serve as the capital of Japan. In a first instance called "Heian-kyo", "Kyoto" was built while partially emulating the capital of the "Tang Dynasty". Architectural style and skills of Feng Shui seem to have also been actively integrated into the construction of the city. Since that time, "Kyoto" served as the political and cultural center of Japan for up to a thousand years. Following the "Meiji Restoration" at the end of the 19th century, the capital moved to "Tokyo", and the vigor and attractiveness towards "Kyoto" momentarily decayed, together with its rapid modernization and construction works. Despite undergoing many changes, there was still an attempt to preserve the "taste of the days gone by", which is still remarkable today. "Kyoto" has been shattered and burned down several times, having been the political and cultural center of Japan for many years after the establishment of "Heian-Kyo" and therefore been involved in persistent battles. Despite it all, it was rigorously rebuilt every time. "Kyoto" can be said to have been one of the most ancient battlefields in Japan and the place where a vast amount of historical events happened.

The most remarkable difference between "Kyoto" and other major cities is that "Kyoto" is not on the sea, although it has large rivers. The panorama of the town is very different from other areas in Japan. "Kyoto" was constructed following a grid pattern and limiting the number of high buildings in order not to ruin the landscape. In some areas, the color and facade of buildings are also affected by restrictions. You might find places that look similar to "Kyoto" in terms of city structure abroad, but at least within Japan, "Kyoto" is matchless. In "Kyoto", you can find great crafts, food culture and architecture that convey some part of Japanese culture. Above all, you can enjoy its unique ambience and its fineness. We suggest visiting the site after having researched its history so that you can make the most of your time there!

Below, we will be introducing the main touristic areas in "Kyoto". We will also make sure to recommend areas that are good sightseeing spots also other than "Kyoto" in the "Travel guidebook" section. Please check it out!
"Kyoto"'s Sightseeing spots
"Shimogyo-ku"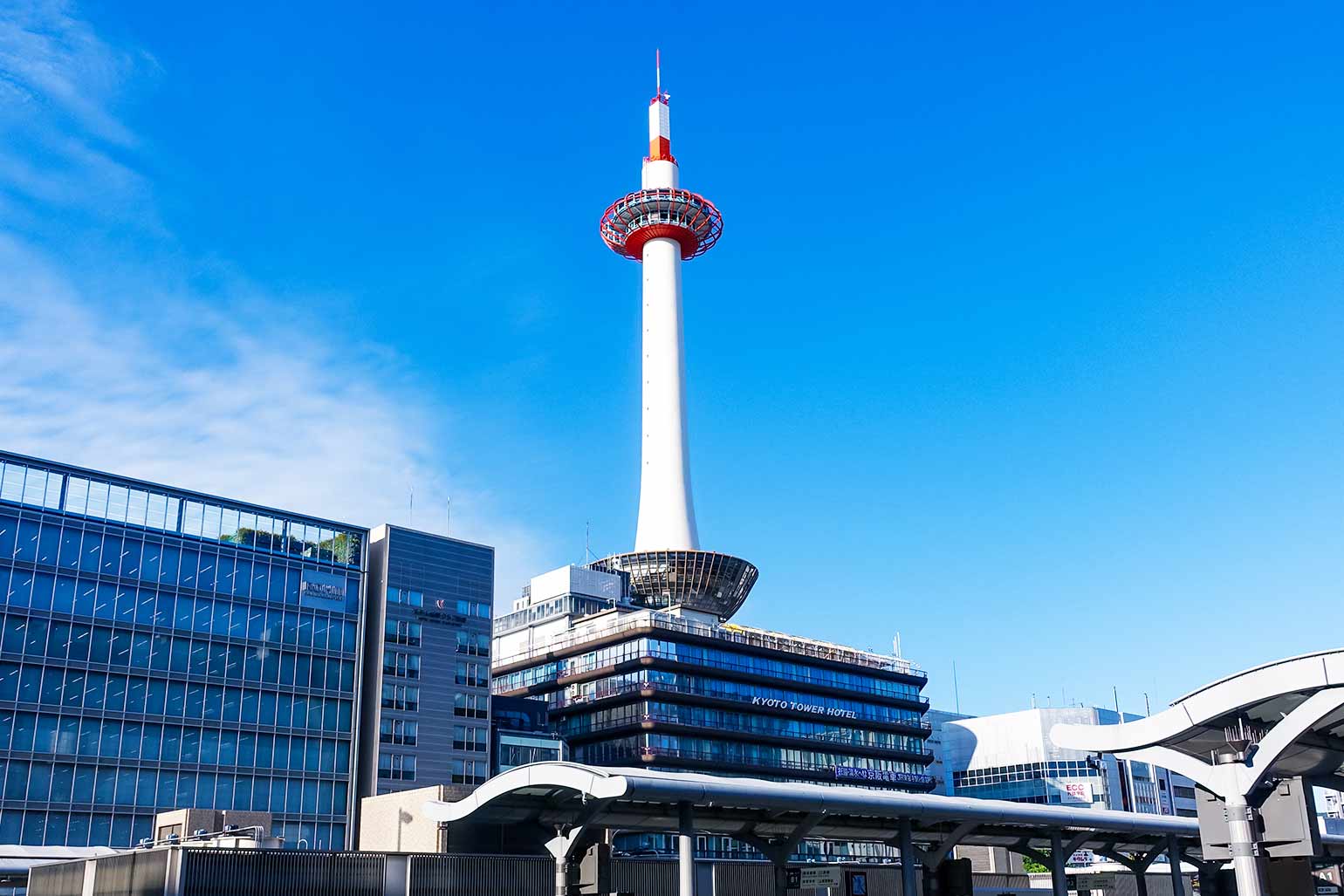 "Kyoto Station", with "the Kyoto Tower" as its landmark, is the starting point for visitors to "Kyoto" from other major cities. The Shinkansen stops at this station, and you can also take the train or bus to get around the city from here. It is very convenient to purchase a one-day subway or bus ticket here for your travel.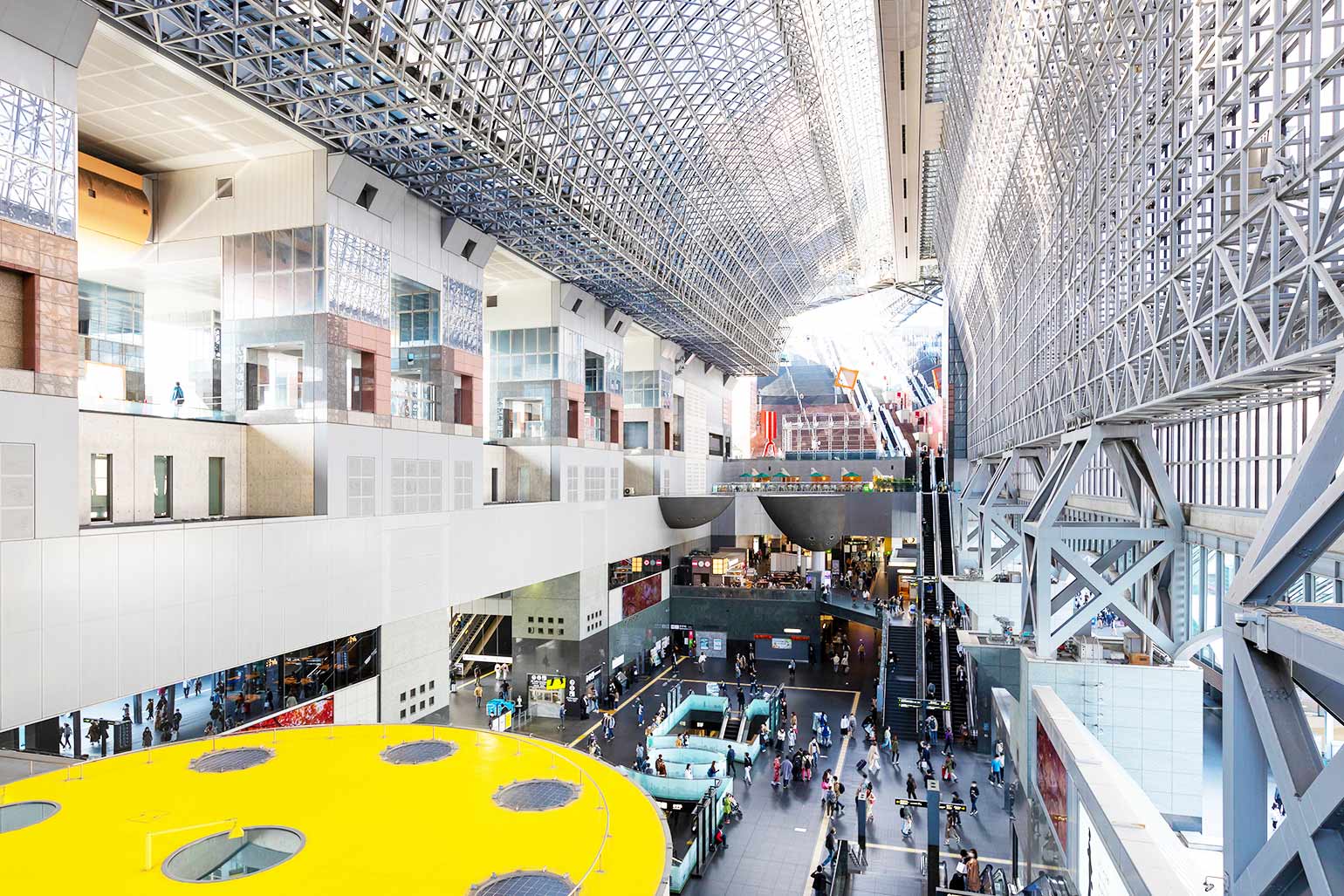 This area does not have the atmosphere and the scenery of a so-called ancient city. Like the major cities in Japan, it looks like a modern metropolis. The only difference is that, as mentioned above, buildings and other structures are lower than in other major cities. If you look around from the observatory of "the Kyoto Tower", you will be able to find that even more. "The Kyoto Museum" and "the Kyoto Aquarium" are located within walking about 15 min. distance from "Kyoto Station". Both of them are easy to visit. "Rengeouin Sanjusangendo", where you can see a thousand statues of the "thousand-armed Goddess of Mercy" lined up in a row, and "Toyokuni Shrine", where Hideyoshi Toyotomi is enshrined, are also nearby.
"Higashiyama-ku"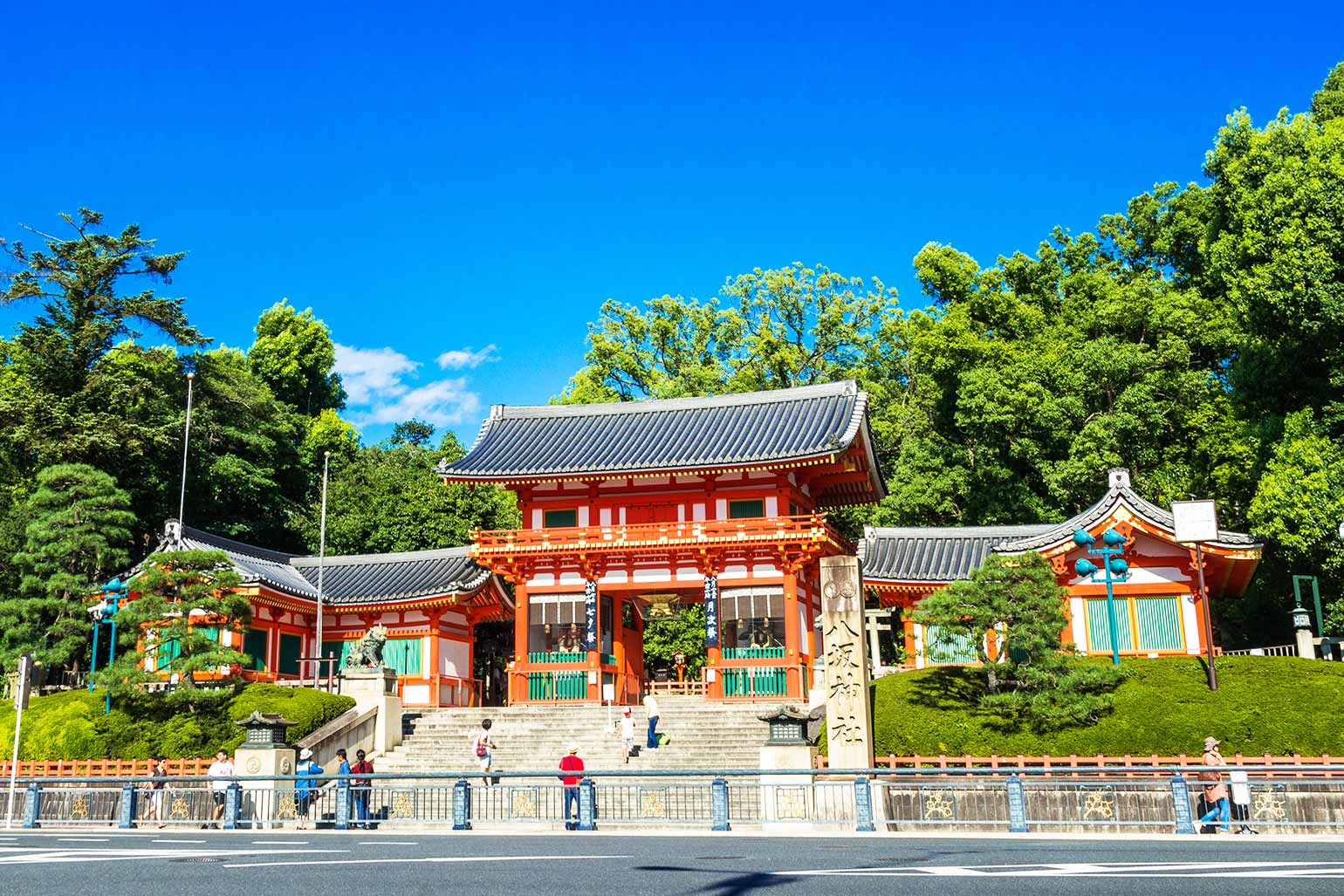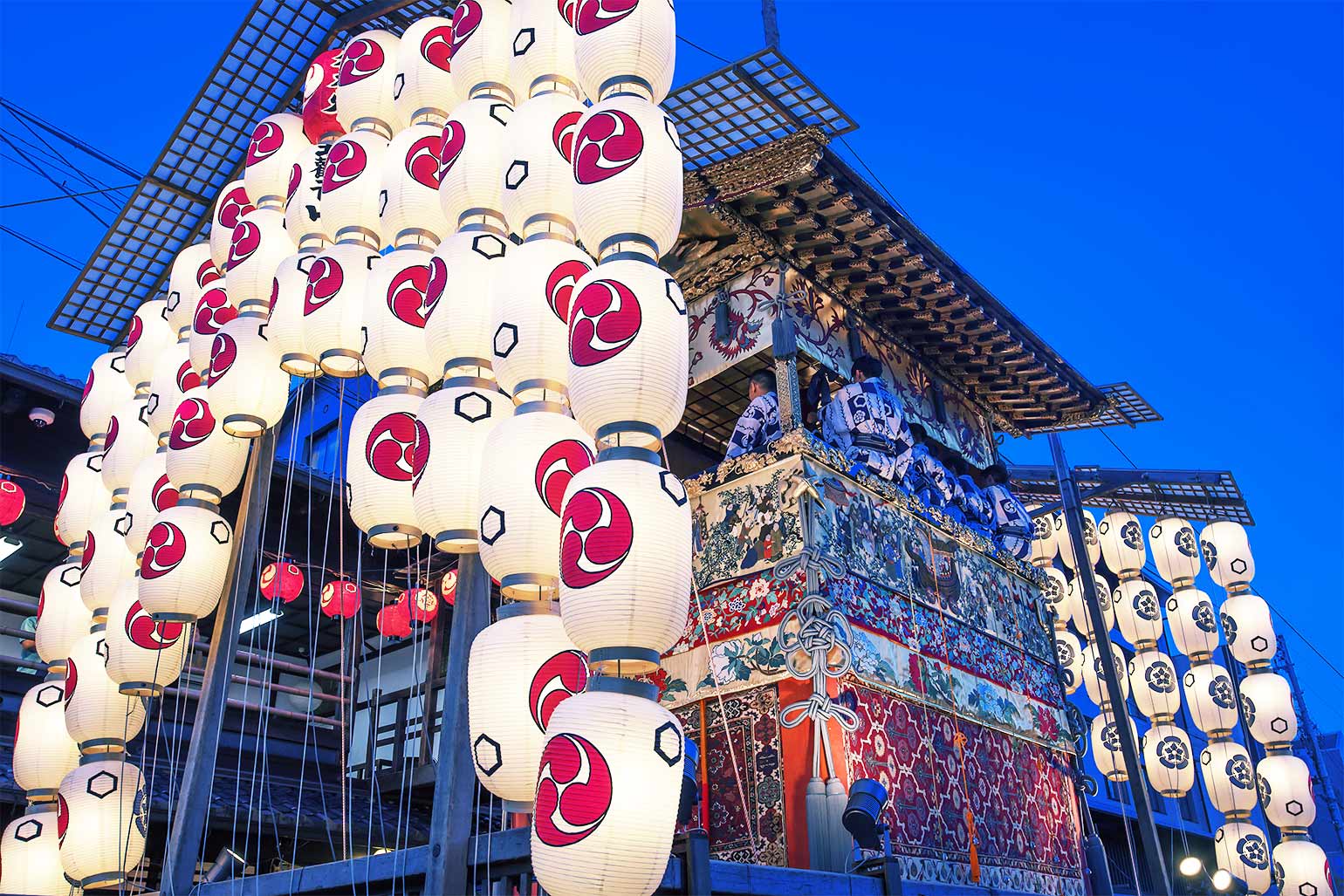 "Gion" is known well for the image of Geiko or Maiko walking through the streets lined with O-chaya and Ryotei (Japanese-style teahouses and restaurants) called "Hanamachi". "The Yasaka Shrine", where "the Gion Festival", one of the three major Japanese festivals, is held, is also located in this area. "Hanamikoji Dori" street in this area is the exact spot. This area is a beautiful nice spot to walk around with a very unified atmosphere and scenery of the whole cityscape. You should especially enjoy the slopes scenery. We recommend that you walk around "Ninei-zaka", "Sannei-zaka", and "Kiyomizu-zaka", where lead to "Kiyomizu-dera Temple".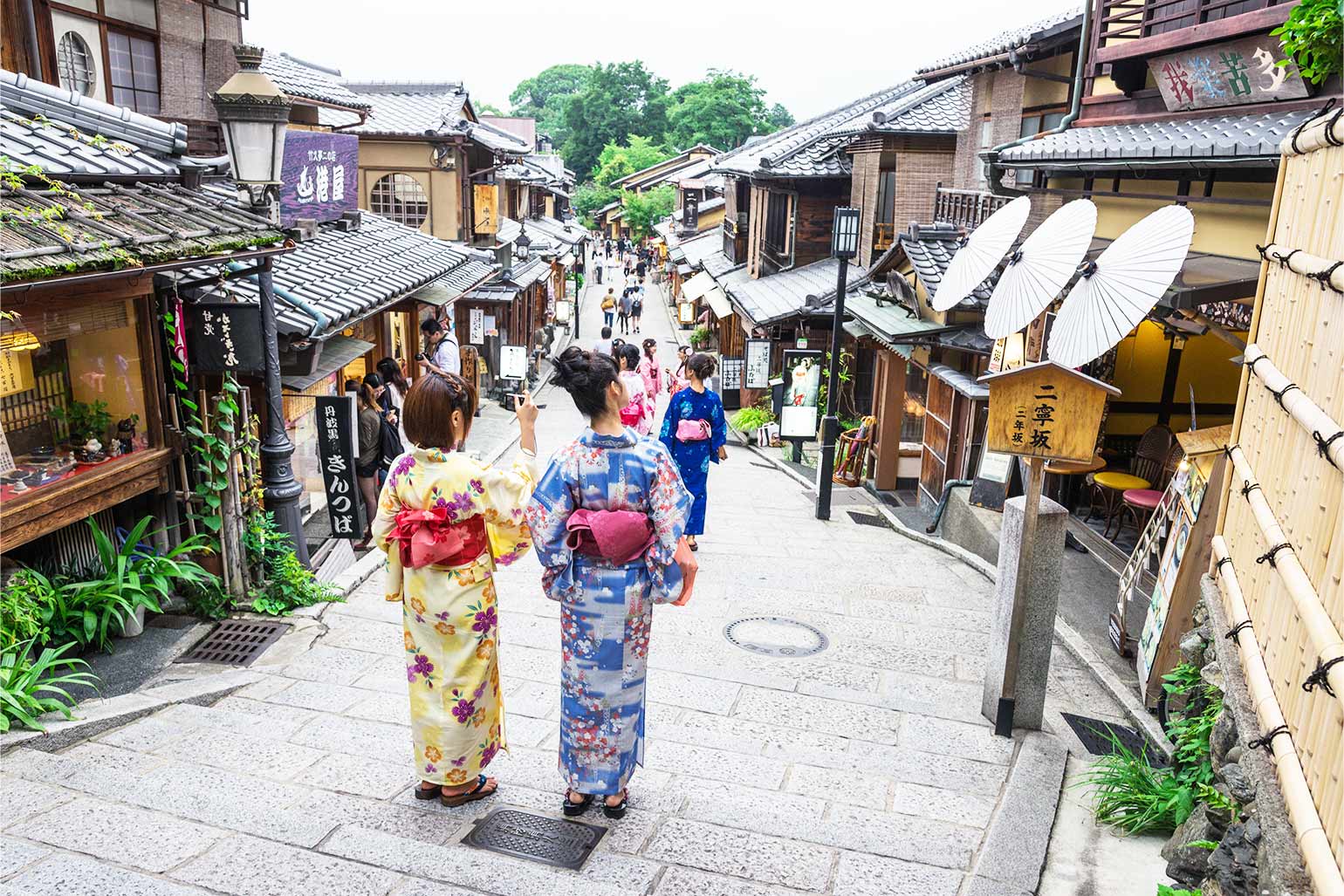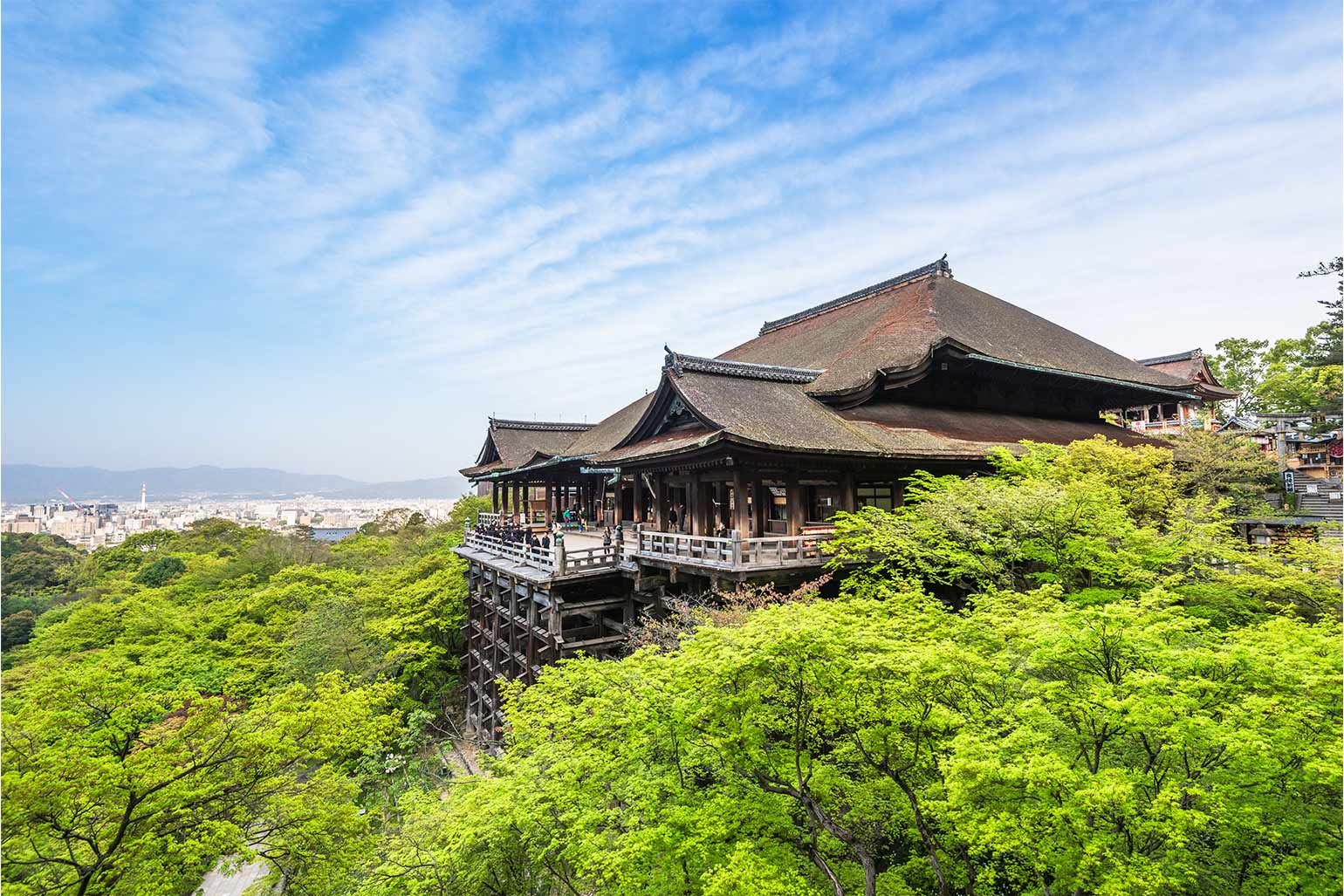 This area is also famous for its famous shrines, such as "Yasui-Kompira-Gu Shrine", "Jishu Shrine" or others, that dedicated to gods related to "relationships". These "relationships" are called "En" or "Enishi" in Japanese, and they include all relationships between people, good fortune or bad fortune, and so on. Each of them has its own unique way of praying, so it's interesting to see how they do it.
"Kamigyo-ku"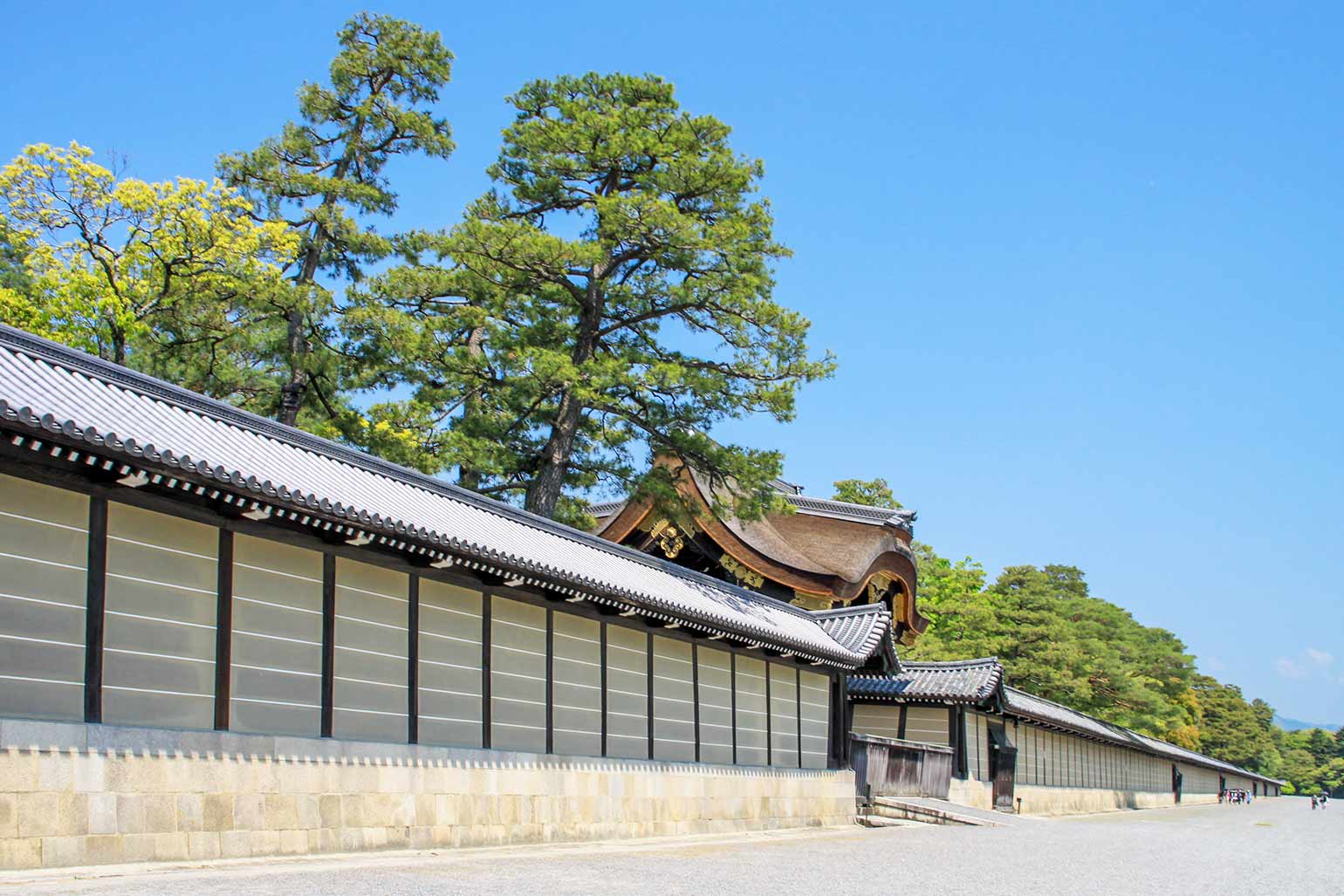 "Kyoto Gosho (The Kyoto Imperial Palace)" was once used as the residence of the emperor and as a place to conduct ceremonies and official business (the place was called "Dairi"). This palace was the emperor's residence until he moved to "Tokyo" as a result of the Meiji Restoration. As we mentioned above, the reason why "Kyoto" was able to preserve the atmosphere and scenery of the past as it is today is because people considered them important even after the Meiji era and focused on preserving them. This "Kyoto Gosho" is also one of the sites you should definitely visit, as it retains very valuable buildings and cultural assets thanks to the continuous efforts to preserve them.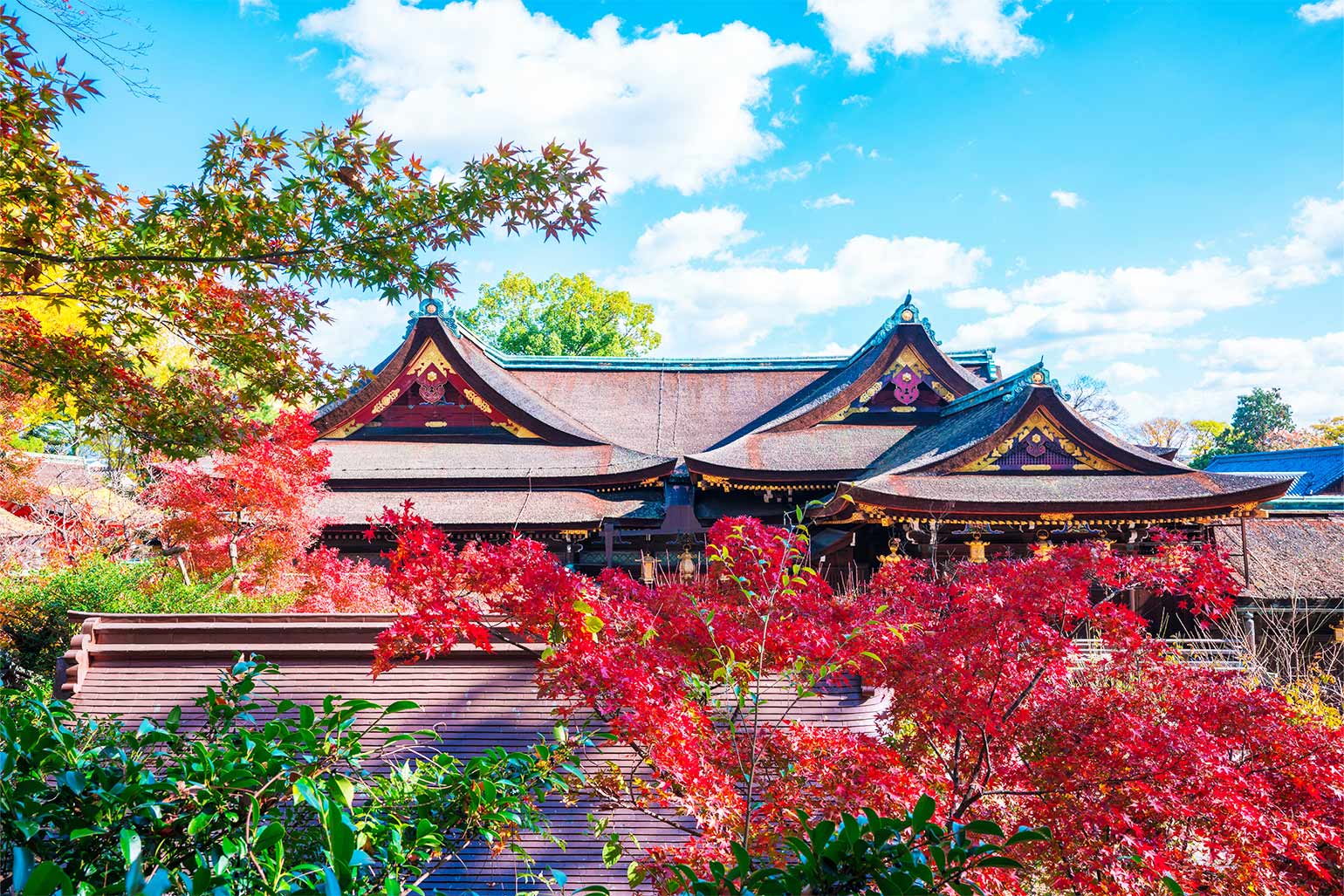 "Kamigyo-ku" is the area west of this "Kyoto Gosho". This whole area has a really neat grid of streets. Because of the clean, flat and orderly appearance of the streets, you may find it difficult to grasp the sense of distance. In addition to "Kyoto Gosho", "the Kitano Tenmangu Shrine", famous for being the birthplace of the Tenjin (Lord Sugawara Michizane) religion, and the "Seimei Shrine", associated with the Yin-Yang master "Abe Seimei", are popular tourist spots.
"Kita-ku / Sakyo-ku"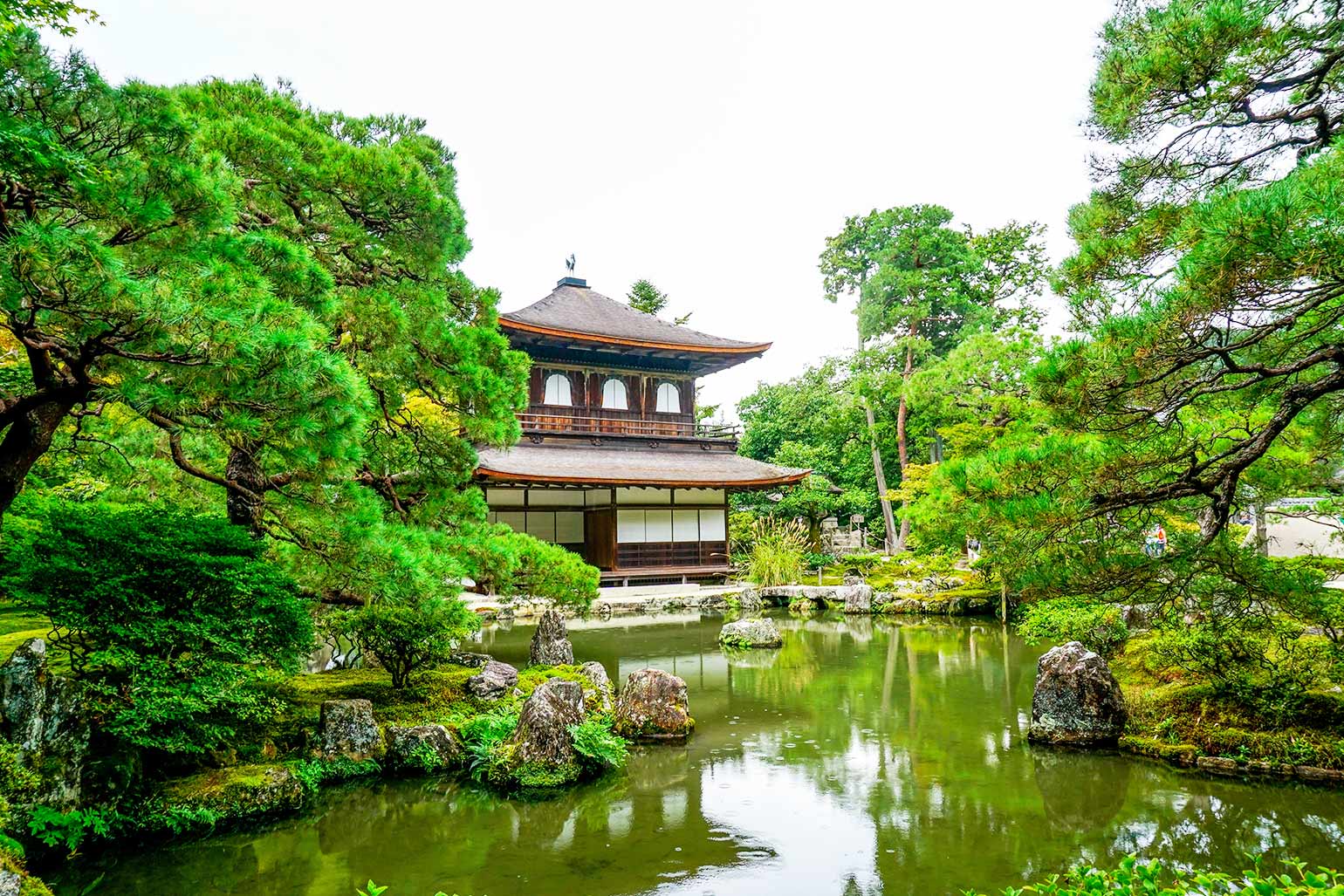 These area are north and east around of "Kyoto Gosho". There are many popular shrines, including "Kamigamo Shrine", which is said to have enshrined the local deity since before the Japanese capital was moved here, "Heian Shrine", "Shimogamo Shrine", and "Okazaki Shrine". "Jishoji Temple", also known as "Ginkaku", is also well known. However, these are relatively far from each other. Roughly 500m ~ 1.5km. If you are planning to visit these temples and shrines in the area, it would be better to consider the route and make effective use of transportation.
"Nakagyo-ku"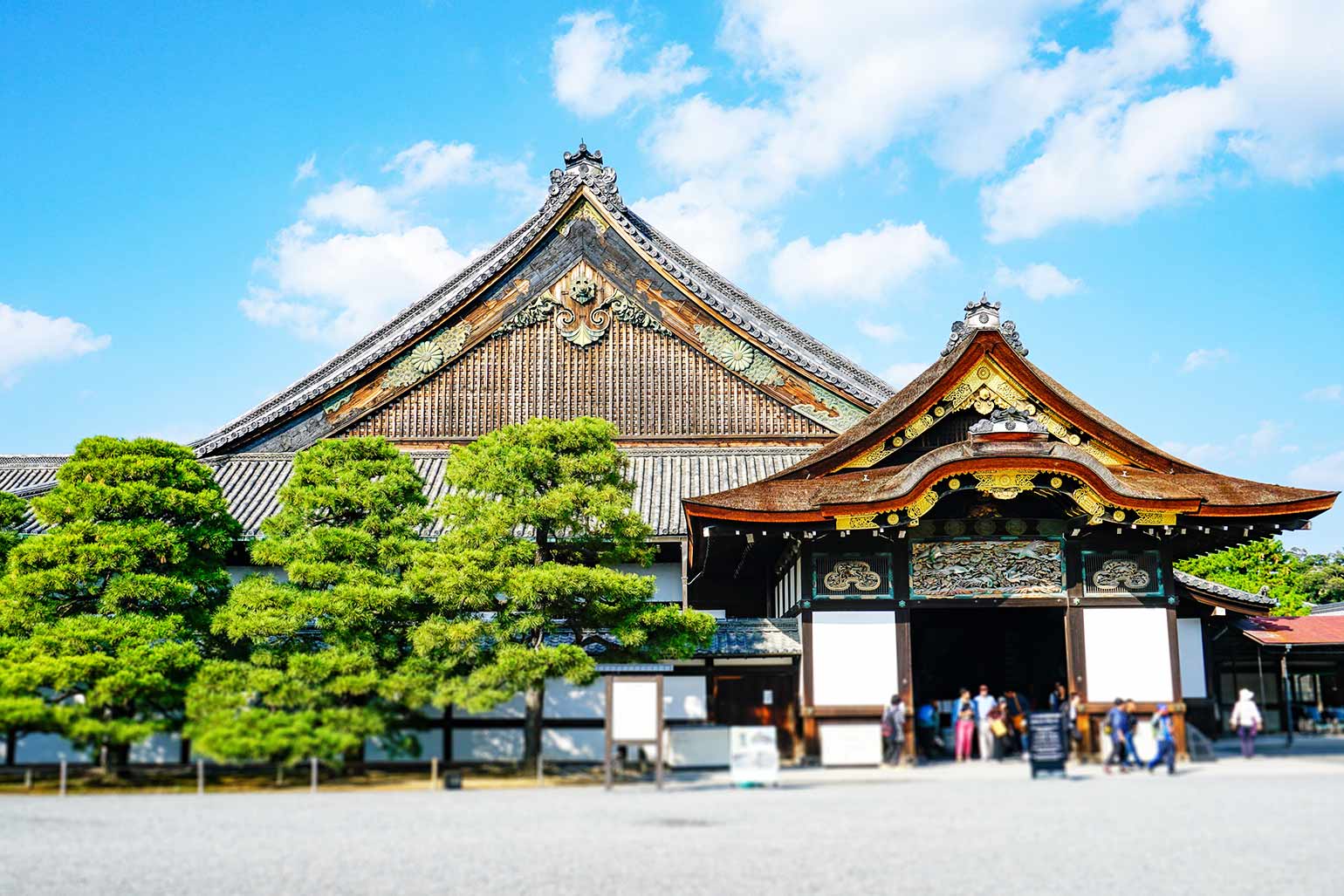 "The Moto-Rikyu Nijo Castle" has been registered as a World Heritage Site and is well known by people from overseas as well. The area around the south side of "Kyoto Gosho" is very close to the subway station, making it easy to visit all the tourist spots. "The Kyoto International Manga Museum", "Shiunzan Chohoji Temple (Rokkakudo)", and "Nishiki Market" are also popular.
"Kita-ku / Ukyo-ku"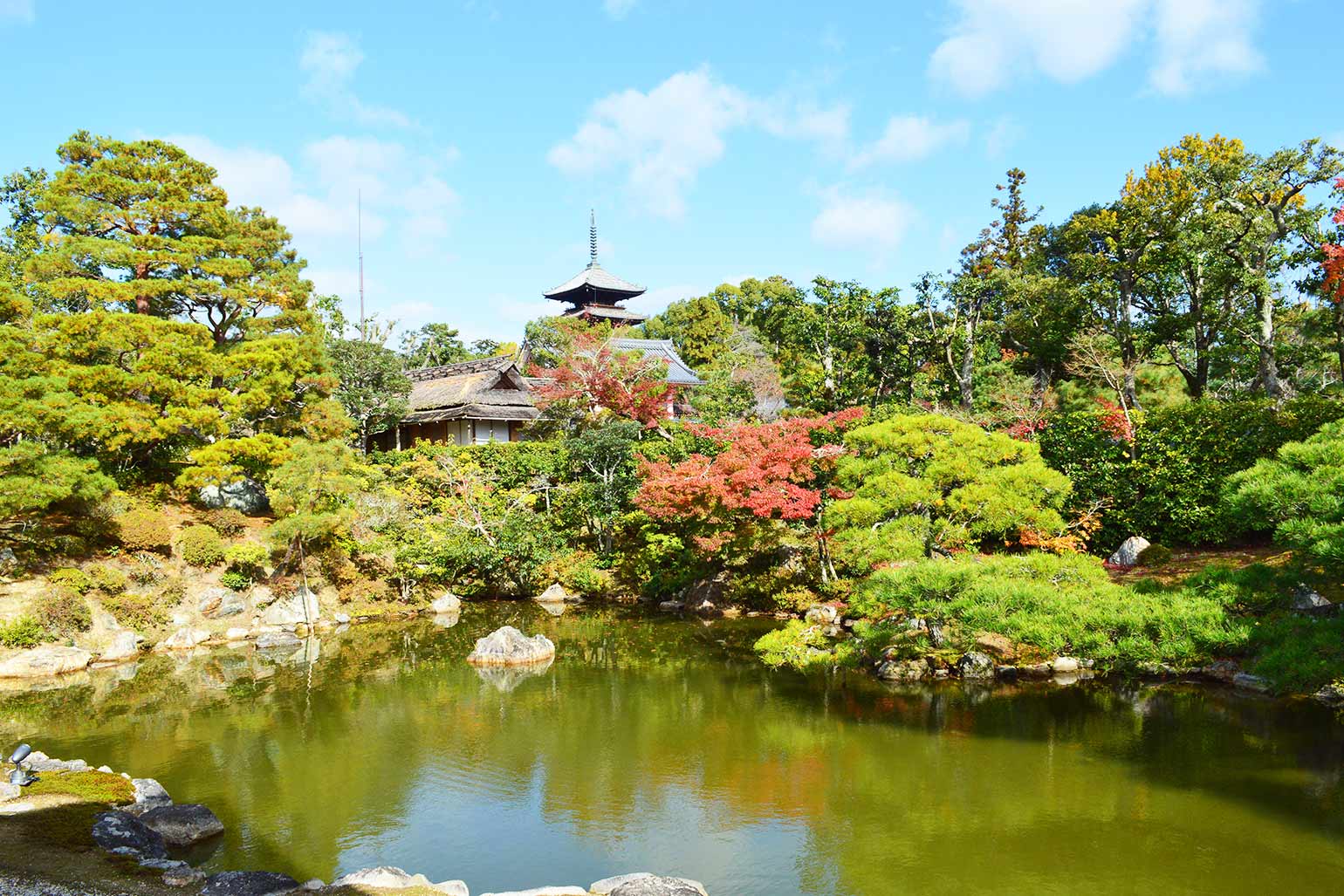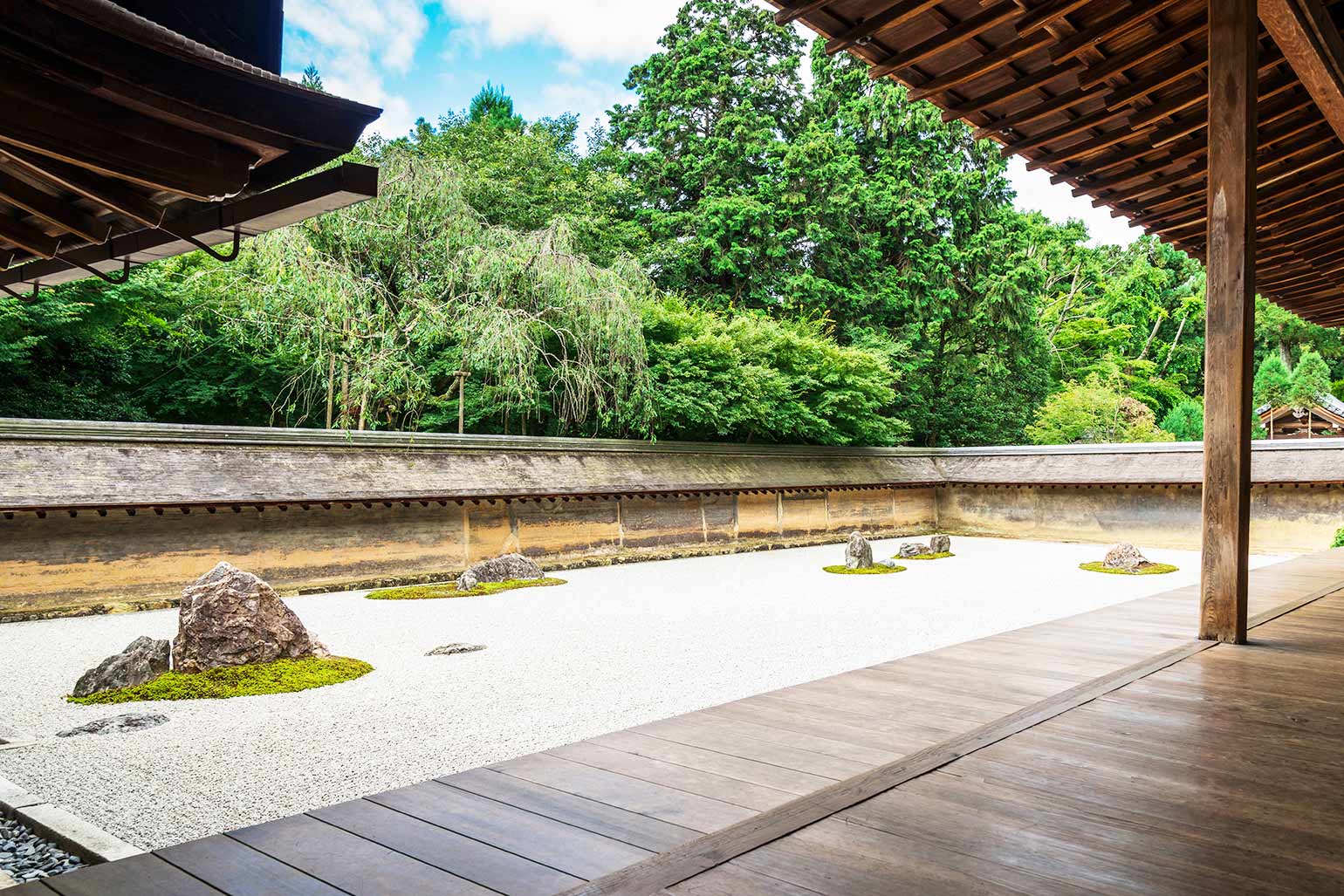 It is the northwest around area of "Kamigyo-ku". This area is located on the mountainside of urban "Kyoto" and is home to some of the most famous temples in Japan. These are "Rokuonji Temple (Kinkaku)", "Ninnaji Temple", and "Ryoanji Temple". Many of you probably might know them. These temples are beautiful no matter what time of year you visit them. Each has its own unique charm. They are not far from each other. And these temples are connected by a single road called "Kinukake Road," so you can just wander around on foot.
"Fushimi-ku"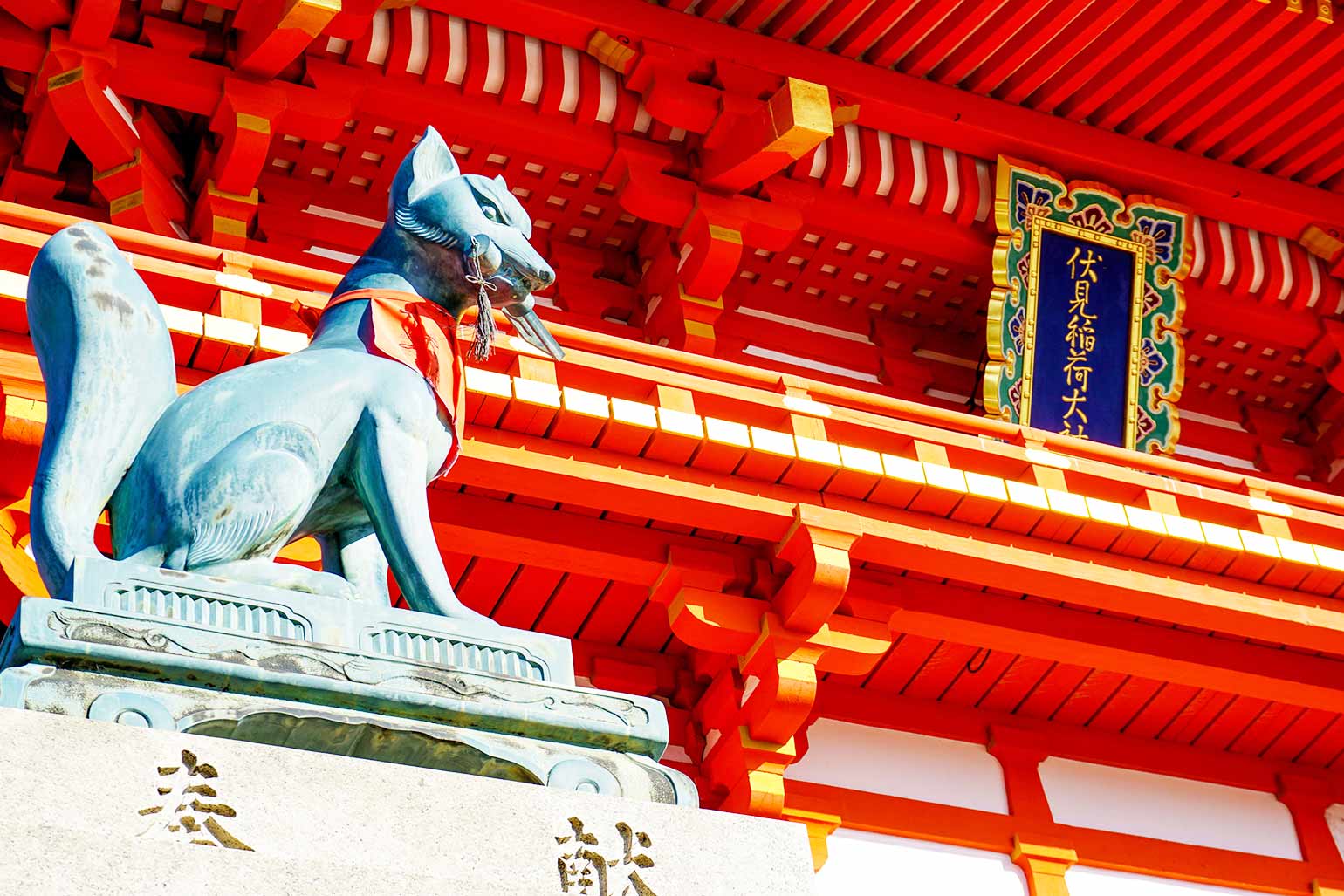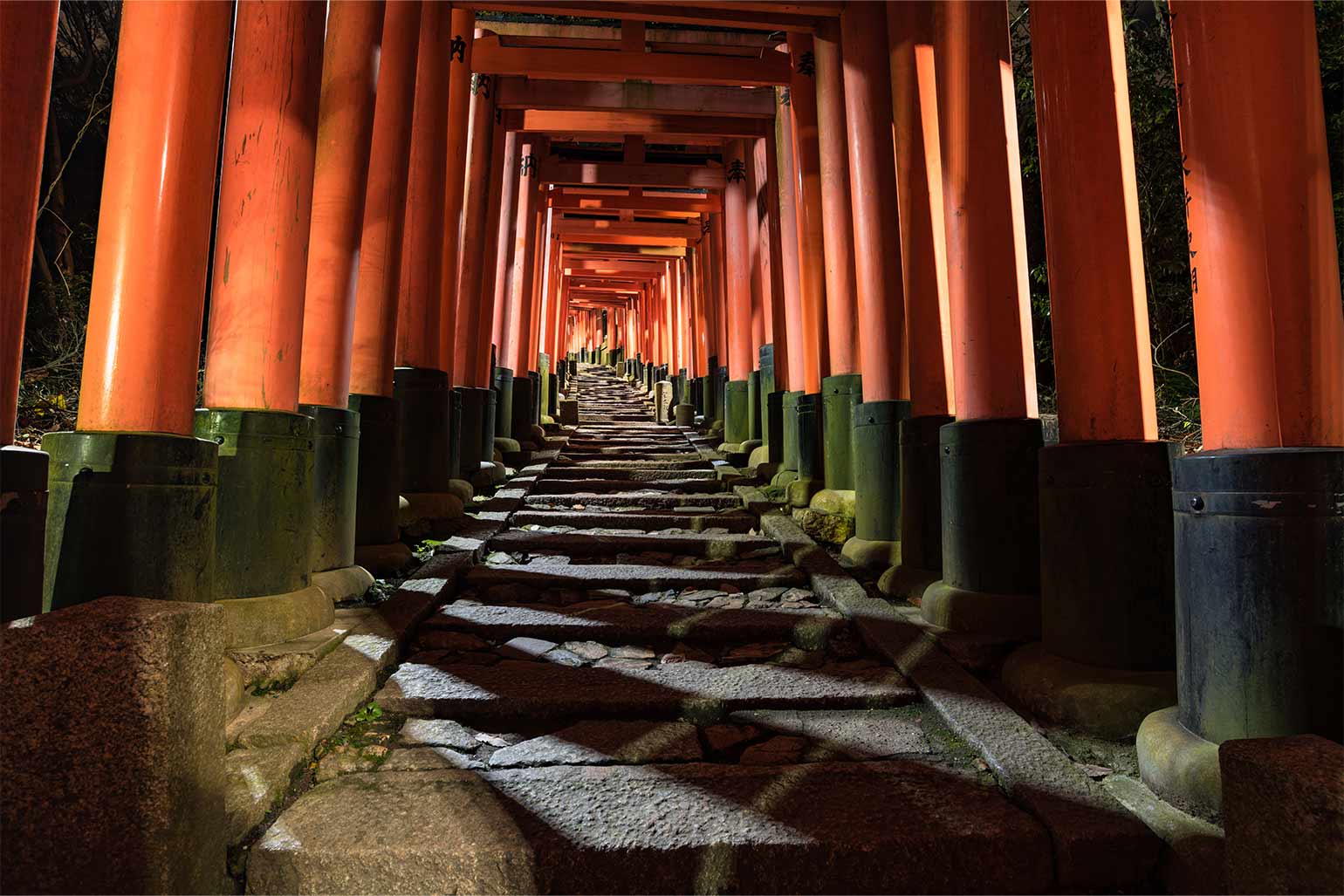 The area is very popular among Japanese people as the site of the confrontation between the Edo shogunate and anti-shogunate forces at the end of the Edo period. It's very well known as a stage for movies, dramas, novels, manga etc. Many of the heroes and famous people of the time were active here, so many tourists come here to visit the sites associated with them. It's also famous for Japanese sake making. "Fushimi Inari-taisha Shrine" is very popular among people from overseas. "Senbon Torii (Thousand Torii Gate)" is a fantastic view that you should definitely visit to see. This shrine is the headquarters of all "Inari shrines" in Japan (about 30,000 shrines).
The main tourist spots around "Kyoto"
"Uzumasa"
It seems that there are quite a few people overseas who have always liked Japanese period dramas. The image of a samurai wearing a topknot and hakama wielding a sword is one of the icons of "Japan", we can say that. The number of movies and dramas in this genre has been decreasing recently, but they are still popular.

This "Uzumasa" area is famous for being the location where most of the domestic film companies have had their studios for period films since before World War II. In the 1950's, which is said to be the heyday of period movies, a tremendous amount of filming was done. Later, as Japanese entertainment contents shifted to domestic TV broadcastings, the number of studios dwindled. Nevertheless, "Uzumasa" has remained a center for filming historical dramas and movies. In a genre like period drama, what's important is the cityscape, right? It is important that the living space, both indoor and outdoor, is well constructed, isn't it? The "Uzumasa" studio was the place where all those large sets were concentrated. "Toei Uzumasa Film Village" is an interactive theme park based on these outdoor sets of historical dramas. The open sets have actually been used for filming movies and TV dramas, so it's a lot of fun. If you like it, you'll enjoy it even more. It's easy to get to, so please come and visit.
"Arashiyama / Sagano"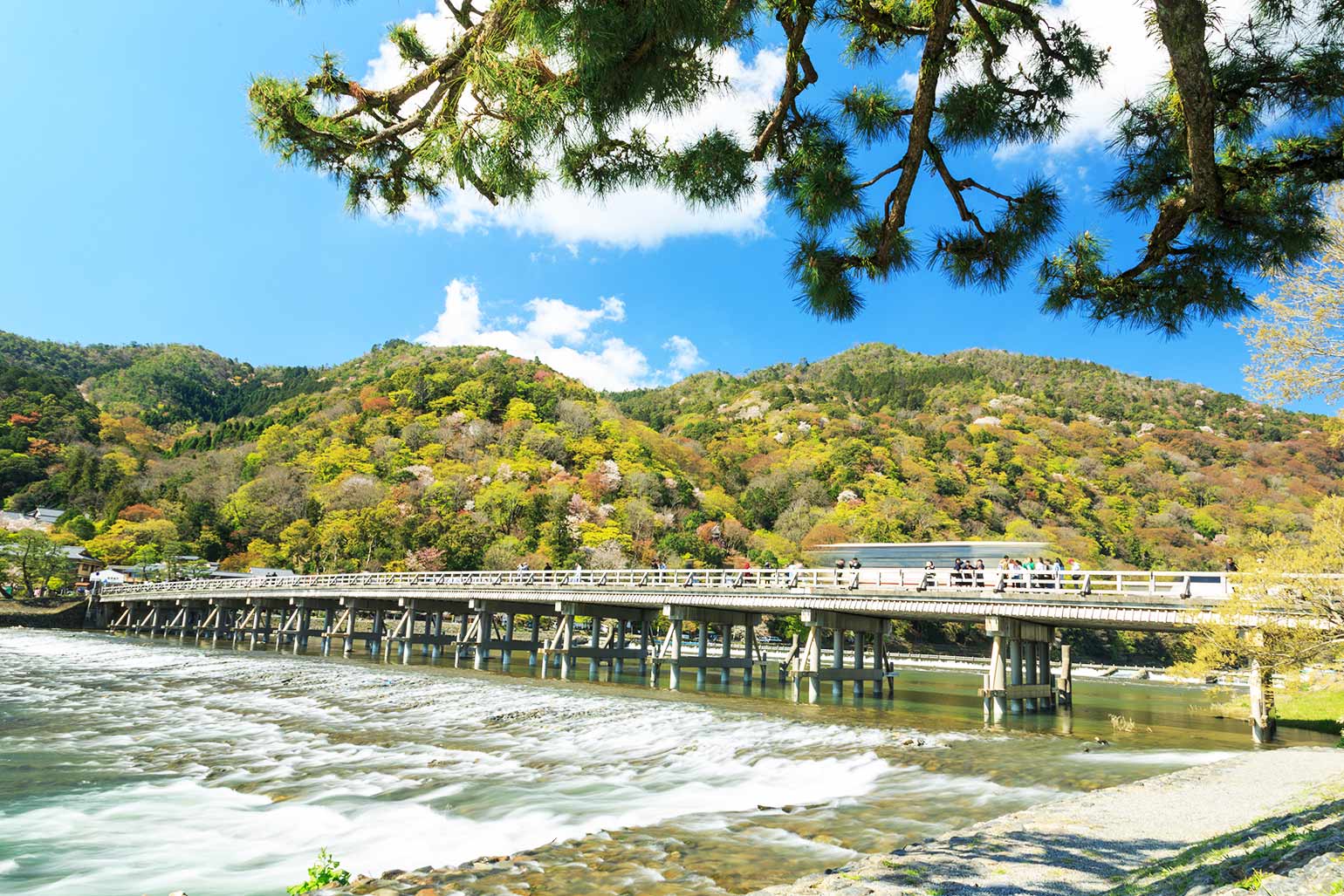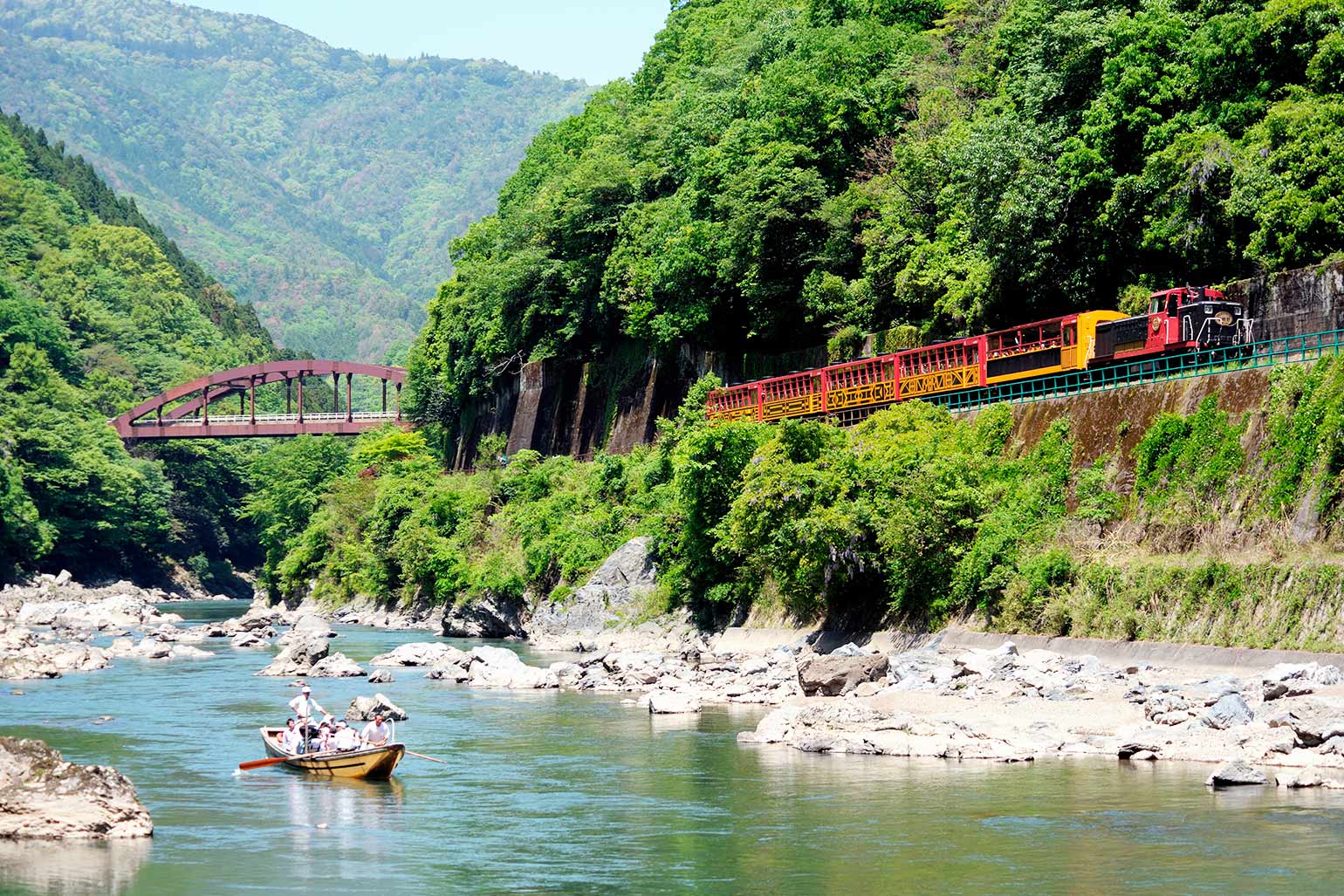 It's a suburban area to the west of "Kyoto" city. The area is known as one of the most scenic spots in "Kyoto" and was once home to the villas of Kyoto's nobility. "The Togetsukyo Bridge" over the "Katsura River", "Tenryuji Temple", a Zen temple of the Rinzai sect of Buddhism, and "the Bamboo Grove Road" stretching from the north gate of the temple are some of the most famous sightseeing spots in Japan. It's a place that will impress you more than you expected when you actually visit it.
"Uji"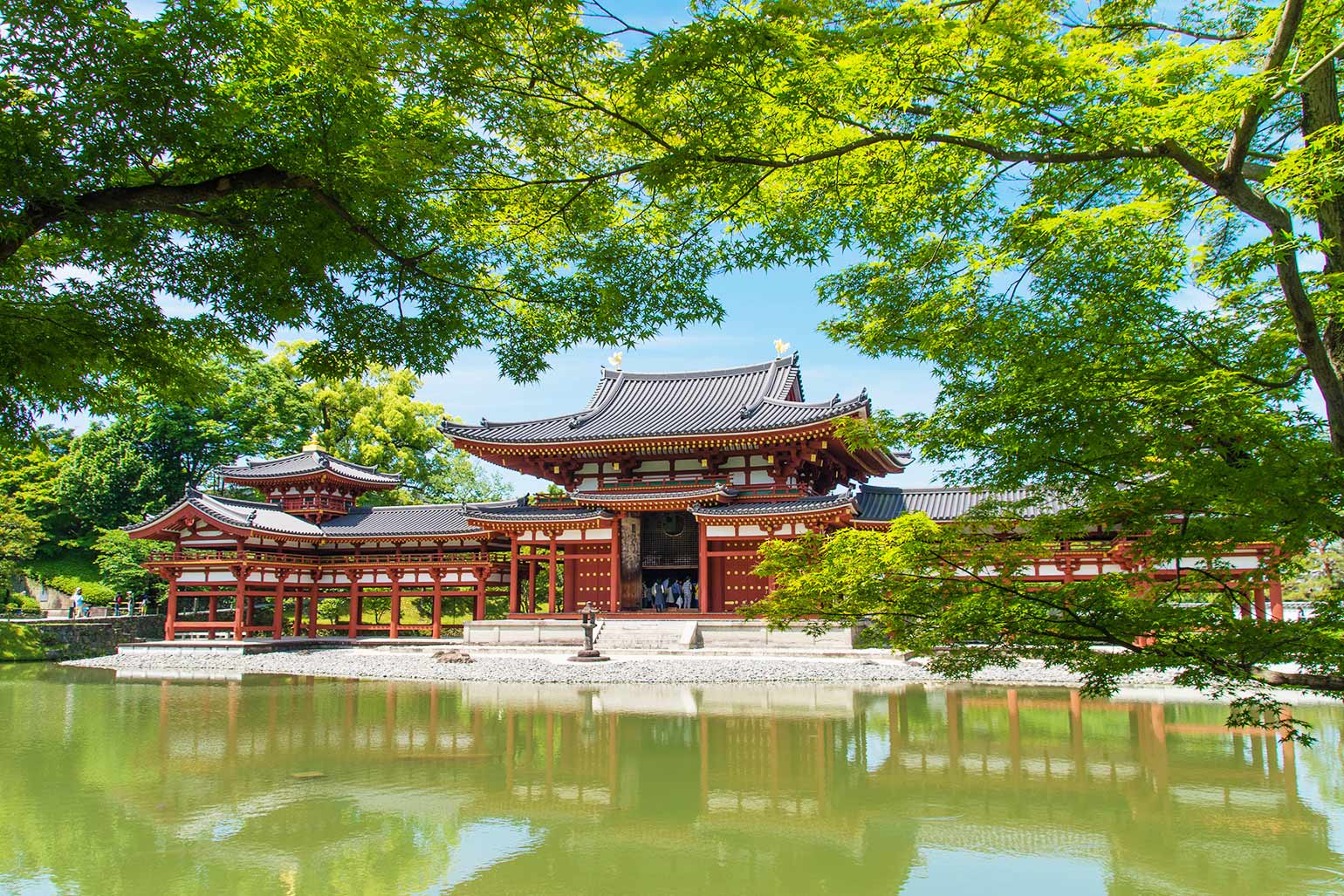 Needless to explain it like this, "Uji" area might be famous for its "tea". Uji tea is one of the most famous local products in Japan, and there are many gourmet foods and souvenirs related to Uji tea. If you want to enjoy "matcha" or "Wa-sweets", this is the place for you. It's a region with a very long history, which is mentioned in "the Tale of Genji".

Well, everyone. Do you have a ten-yen coin? Taking a look at it, you will see that it depicts a majestic architecture. This is "the Byodoin Hououdo" in "Uji". In the past, the temple had a rich, aged look, with colors that looked exactly like those on a ten-yen coin. In 2010, it was restored to its original vivid vermilion color. If you are ever in "Uji", this is a great place to visit.
"Otsu"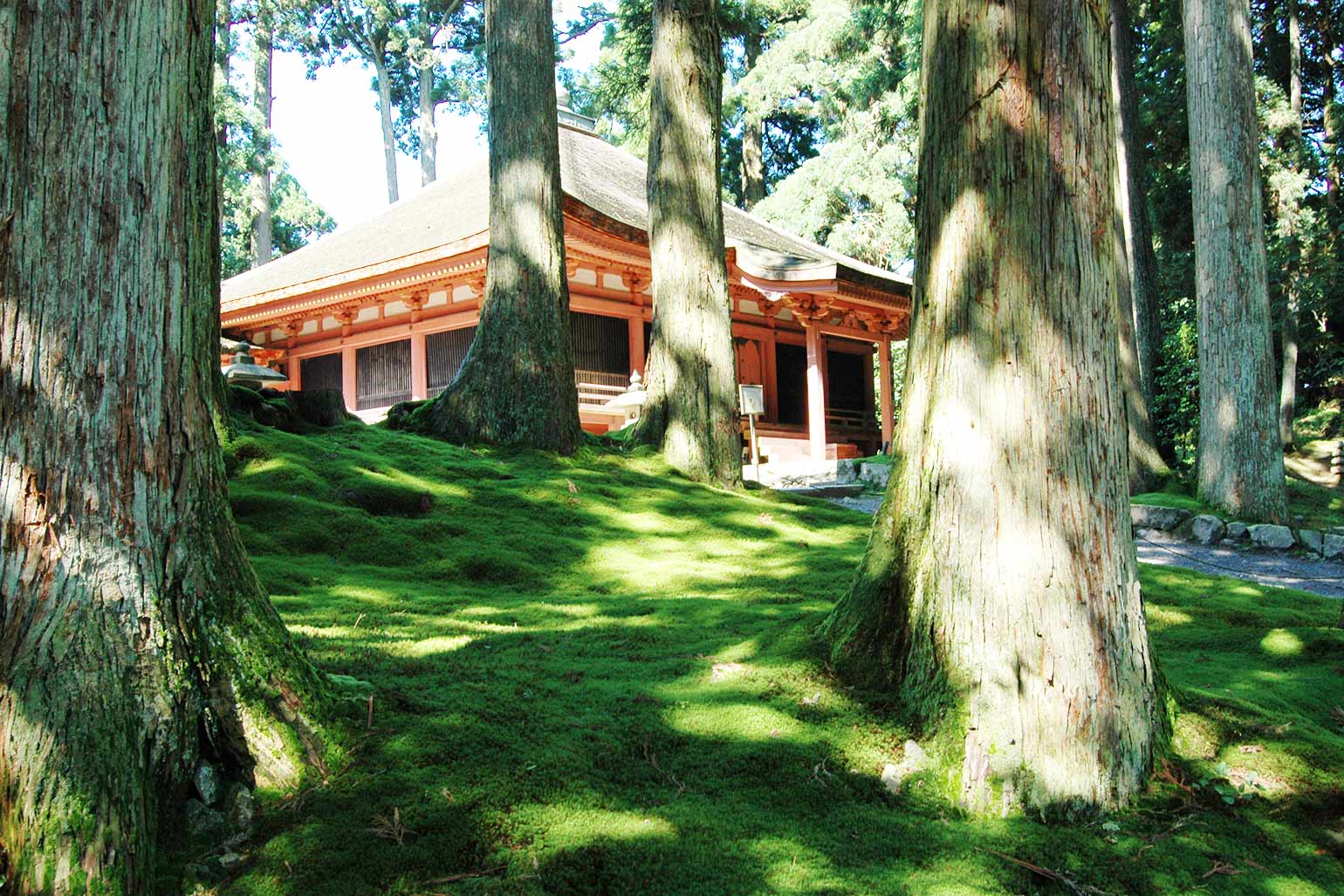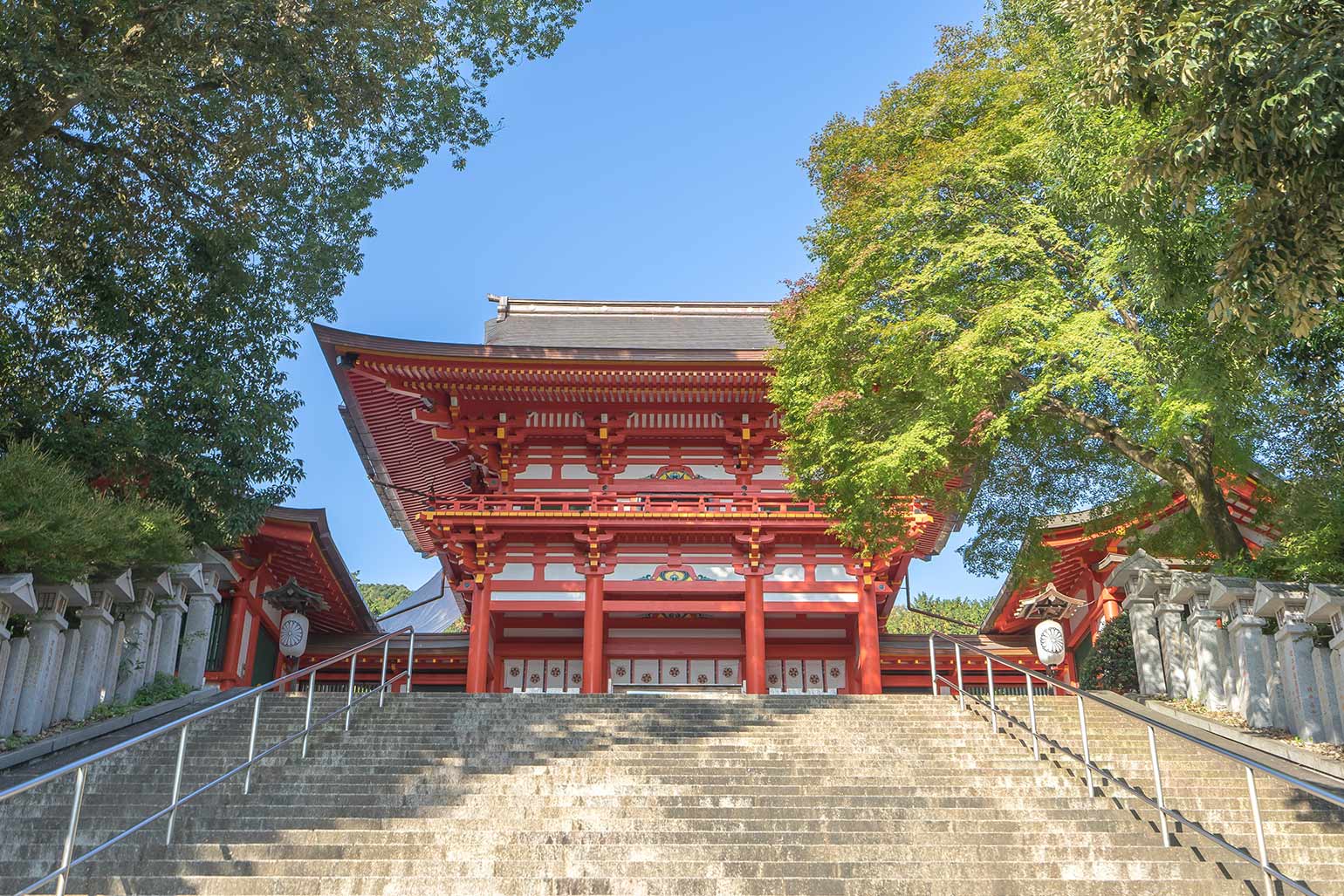 "Otsu" is the prefectural capital of Shiga Prefecture, which has "Lake Biwa", a water bottle for the Kansai region centered on "Kyoto" and "Osaka". In fact, "Otsu" has an even older history than "Kyoto" and "Nara", which are known as ancient cities, and was the capital of ancient Japan before "Kyoto". There are also many famous temples and shrines in the vicinity that have a long history. "Hiyoshi Taisha", the head temple of the Sanno faith, "Hieizan Enryakuji Temple", the head temple of the Tendai sect of Buddhism founded by Saicho, and "Shirahige Shrine", known for its torii gate standing on "Lake Biwa", are all very well-known. "The Omi Shrine", which is closely related to Ogura Hyakunin-Isshu (Japanese traditional card game) and competitive karuta, is also very famous. It's also a great place to eat "Omi beef" and other gourmet foods, so we highly recommend this area.
"Osaka"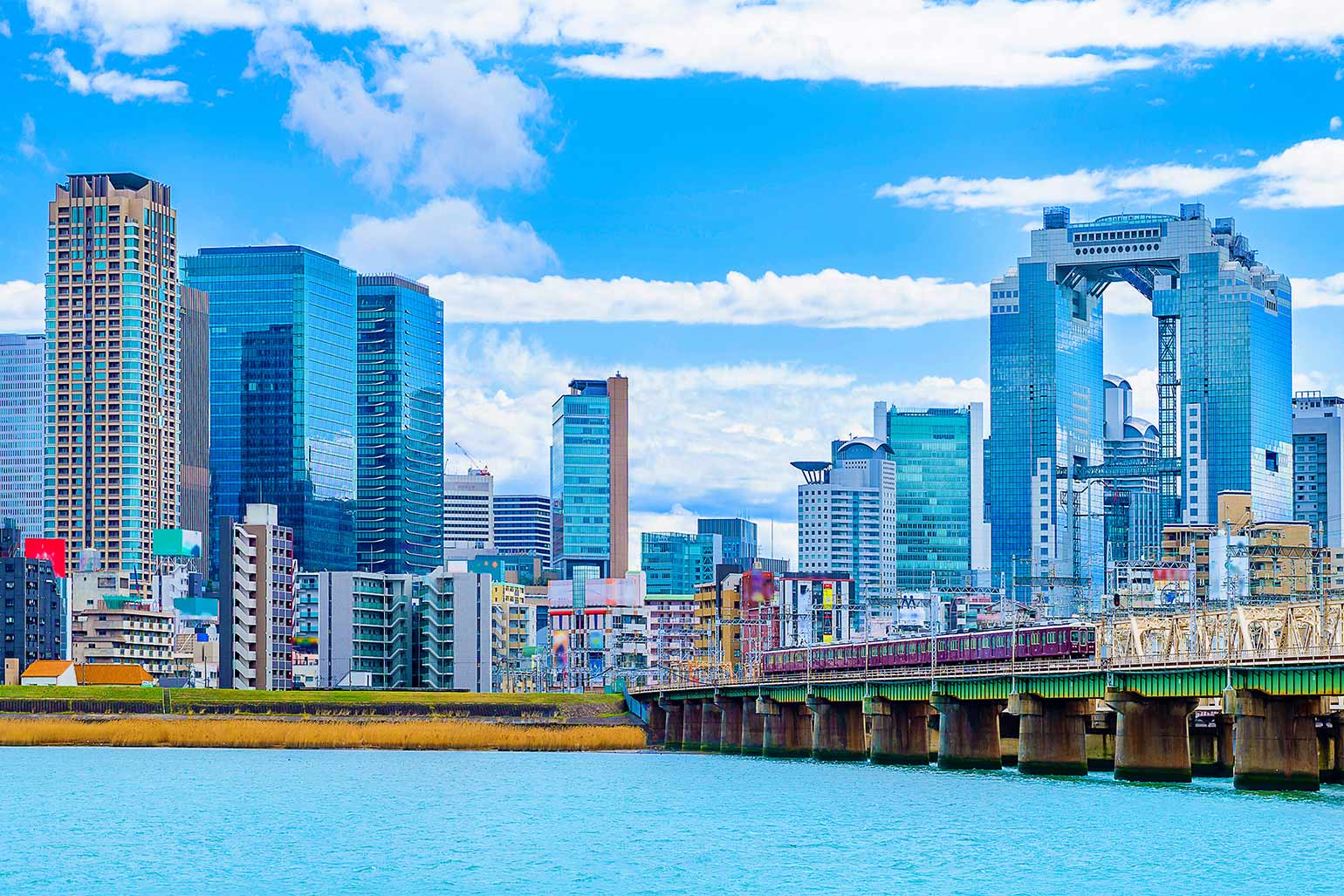 It takes less than 30 min. from "Kyoto" by regular train and less than 15 min. by Shinkansen. For more information about sightseeing in "Osaka", please see the other page.
→ https://epic-j.com/sightseeing/main-cities/osaka/
"Nara"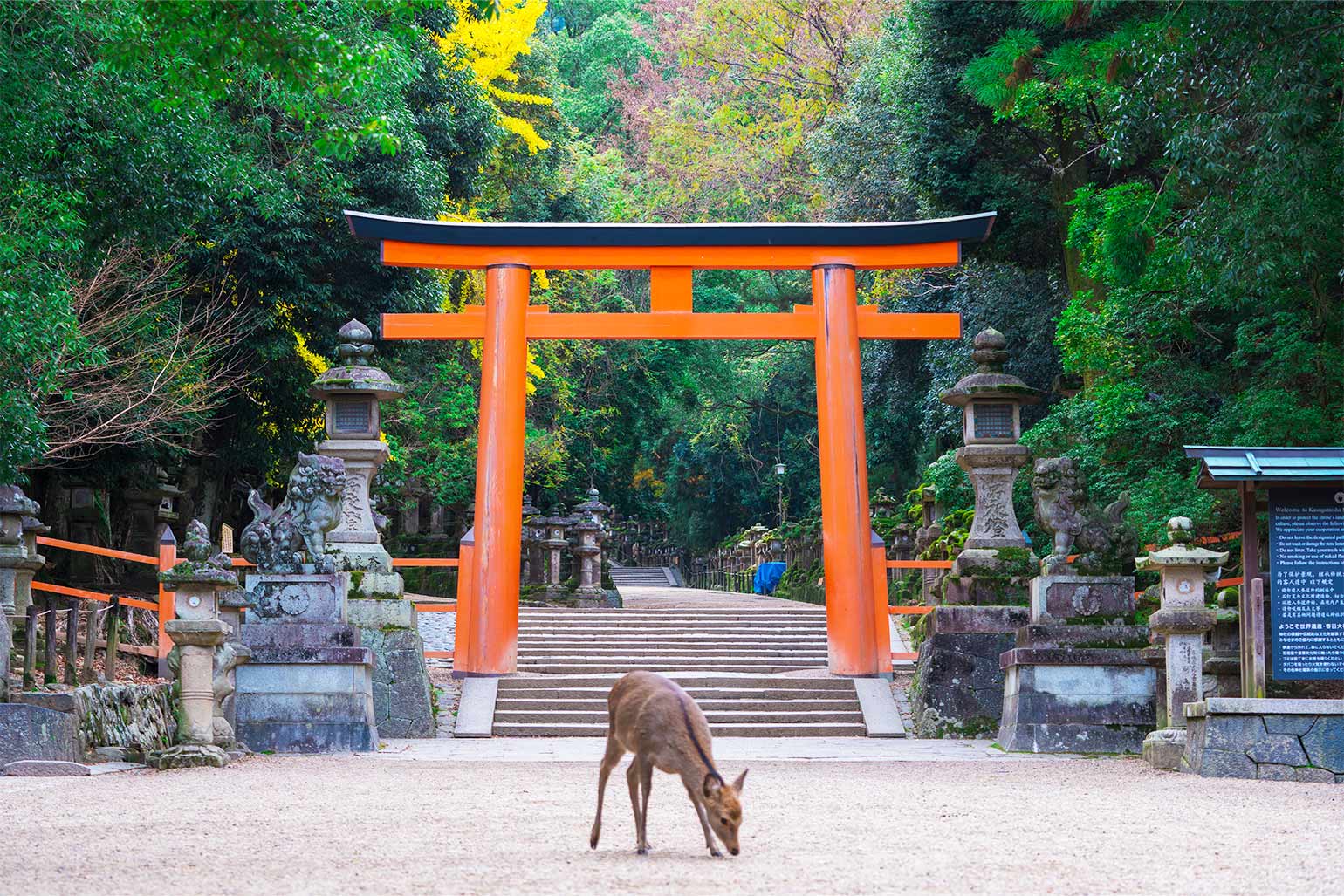 Before the capital was moved to "Kyoto", the capital of Japan was located here in "Nara". In particular, "the Heijo-kyo Capital", which is the urban area of present-day "Nara", was a capital that strongly reflected the blossoming aristocratic and Buddhist culture of the time. Today, many of its historical heritages are still preserved, and the city is a treasure trove of valuable and important cultural assets.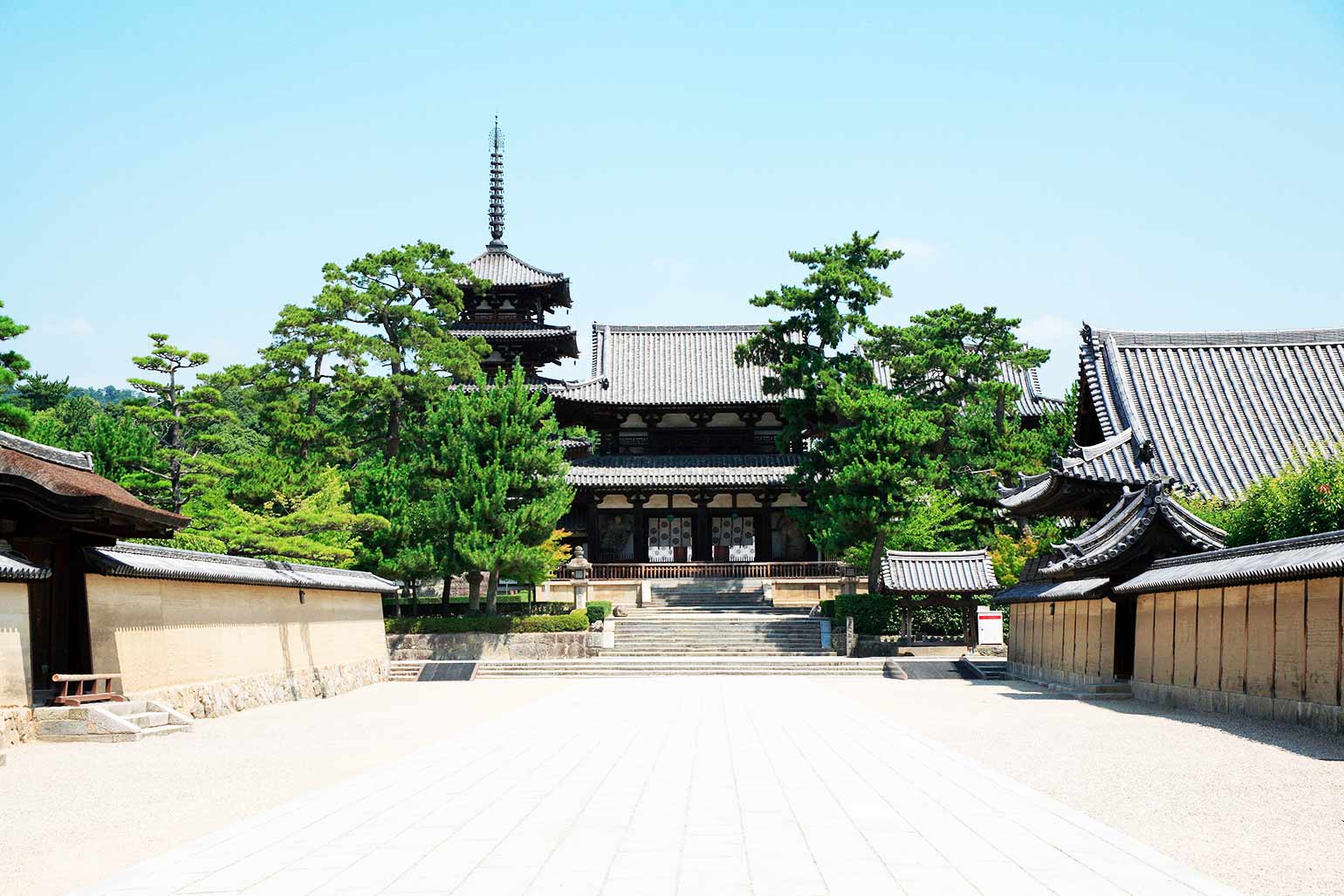 During the period when the capital was located in "Nara", Buddhism from the continent flourished. As a result, there are many Buddhist temples left in this area. "Horyuji Temple", the world's oldest surviving wooden structure, is one of the most well known temples overseas. Another famous temple will be "Todaiji Temple", known for the "Great Buddha of Nara". "The Kasuga Taisha Shrine" is also popular for its "Meoto Daikokusha (called married couple shrine)". It is a city worth exploring, with a collection of historical buildings that almost every elementary and junior high school student in Japan knows, such as "Omiwa Shrine", which is said to be the oldest shrine in Japan and is recorded in "Kojiki" and "Nihonshoki".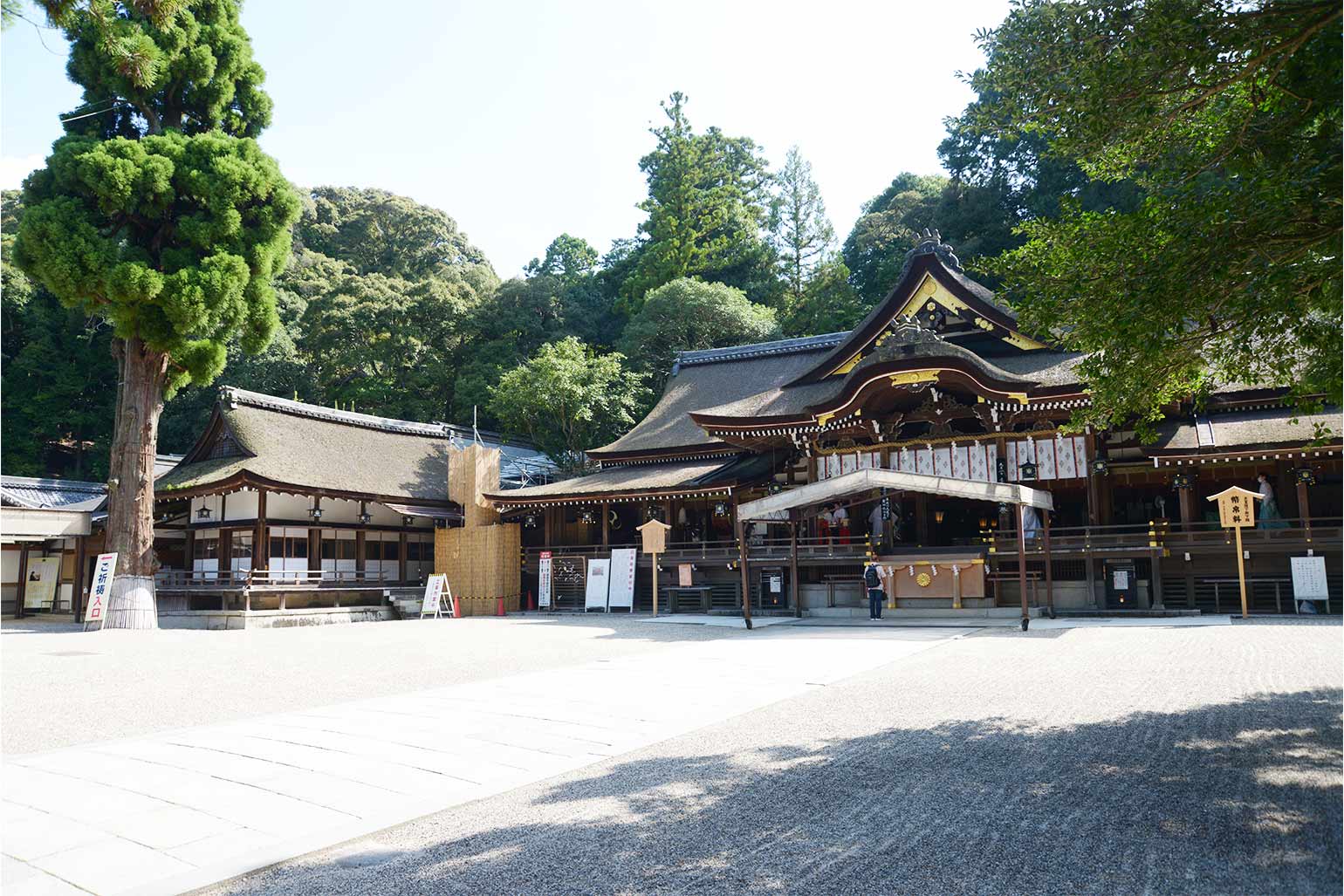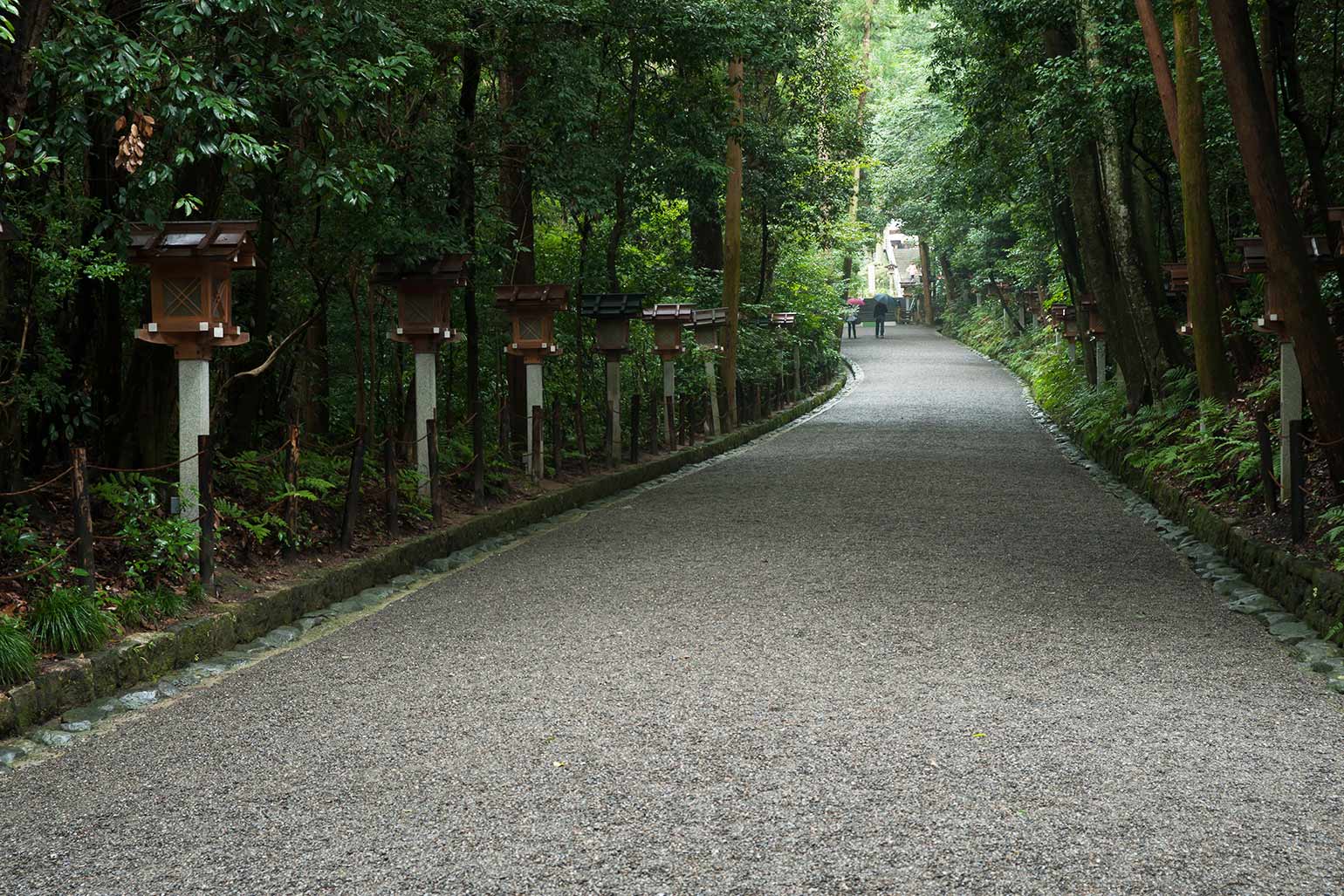 By train, it will take about one hour from "Kyoto" or "Osaka", and about one and a half hours from "Nagoya". You can visit the site with relatively little effort. It's not as crowded as "Osaka" or "Kyoto", so it's highly recommended for a relaxing stay. Please visit there.