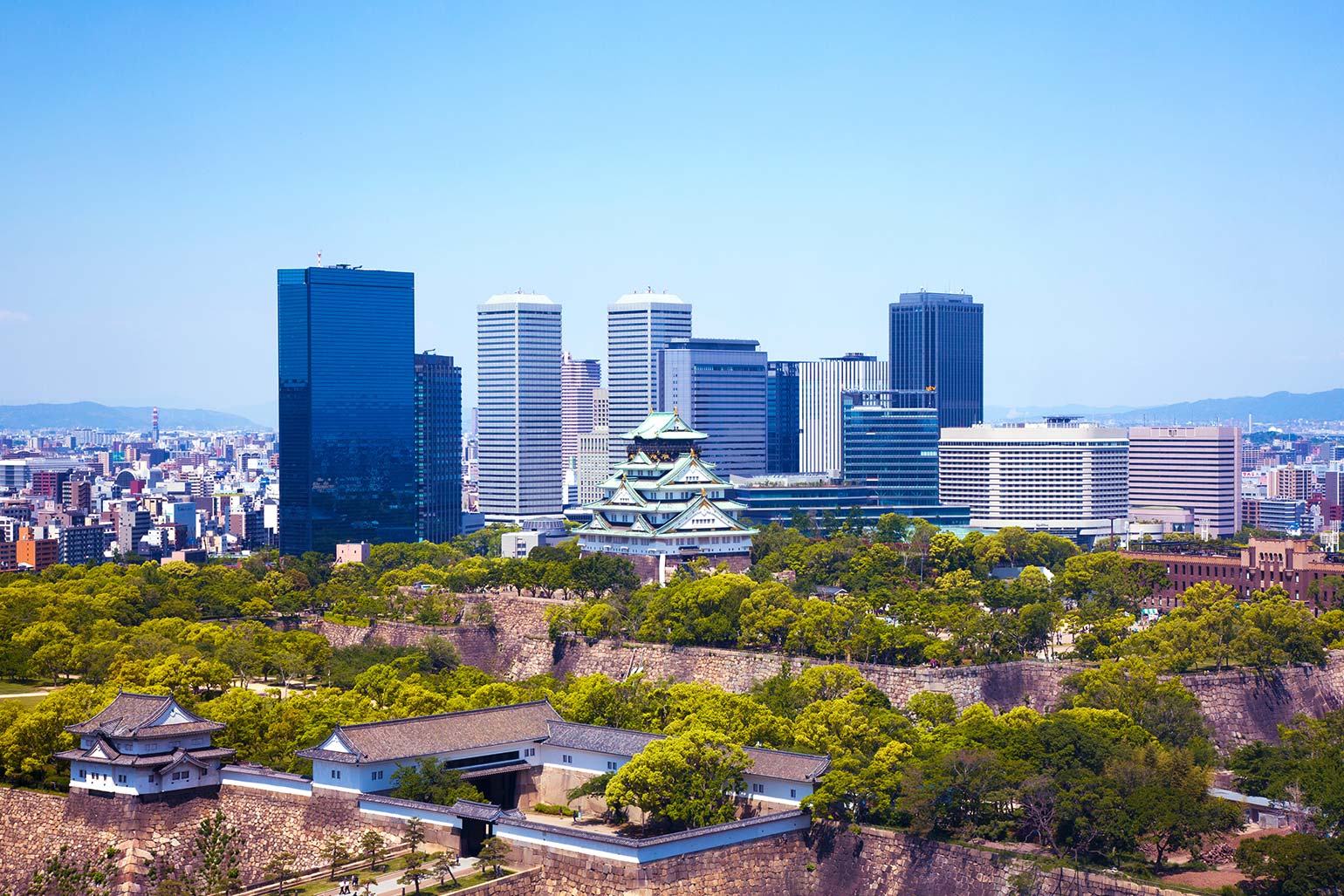 Japan stretches from northeast to southwest. Honshu, the largest island of Japan, lies almost between the East and the West. This is why in Japan, people often refer to some cultural aspects such as tastes and different ways of thinking in terms of "East" and "West". But how about the point in the middle, between "East" and "West"…? Well, let's leave this topic aside.

"Tokyo" is considered the East metropolis of Japan, whereas "Osaka" the western metropolis. Originally, "Kyoto" was the political and cultural centre of Japan. In the Edo period, these moved to today's "Tokyo". "Osaka" faced the port in the vicinity of "Kyoto" and developed as a water transport centre. Moreover, thanks to the many rivers that give birth to vast plains, "Osaka" was used as a solid base by "Toyotomi Hiedyoshi" at the end of the 16th century, and rapid development followed. Being a port town that connected the East and West of Japan, "Osaka" also became the gathering spot for many merchants. "Osaka" was also granted the name of "The Kitchen of the World", being the place where all sorts of ingredients from all over Japan arrived. After Japan's modernization, all political functions reallocated to "Tokyo" and "Osaka" became the cultural centre in western Japan, substituting "Kyoto" and enlarging its economy.

Following "Tokyo", "Osaka" has the second largest transportation system, with also several big airports nearby, that allow visitors to arrive directly from abroad and have excellent access to other cities. On top of the many historic buildings, there are also some of the country's leading entertainment facilities in "Osaka", for you to enjoy in a wealth of ways.

Below, we will be introducing the main touristic areas in "Osaka". We will also make sure to recommend areas that are good sightseeing spots also other than "Osaka" in the "Travel guidebook" section. Please check it out!
"Osaka"'s Sightseeing spots
"Kita ("Umeda", "Tenjinbashi", "Nakanoshima")"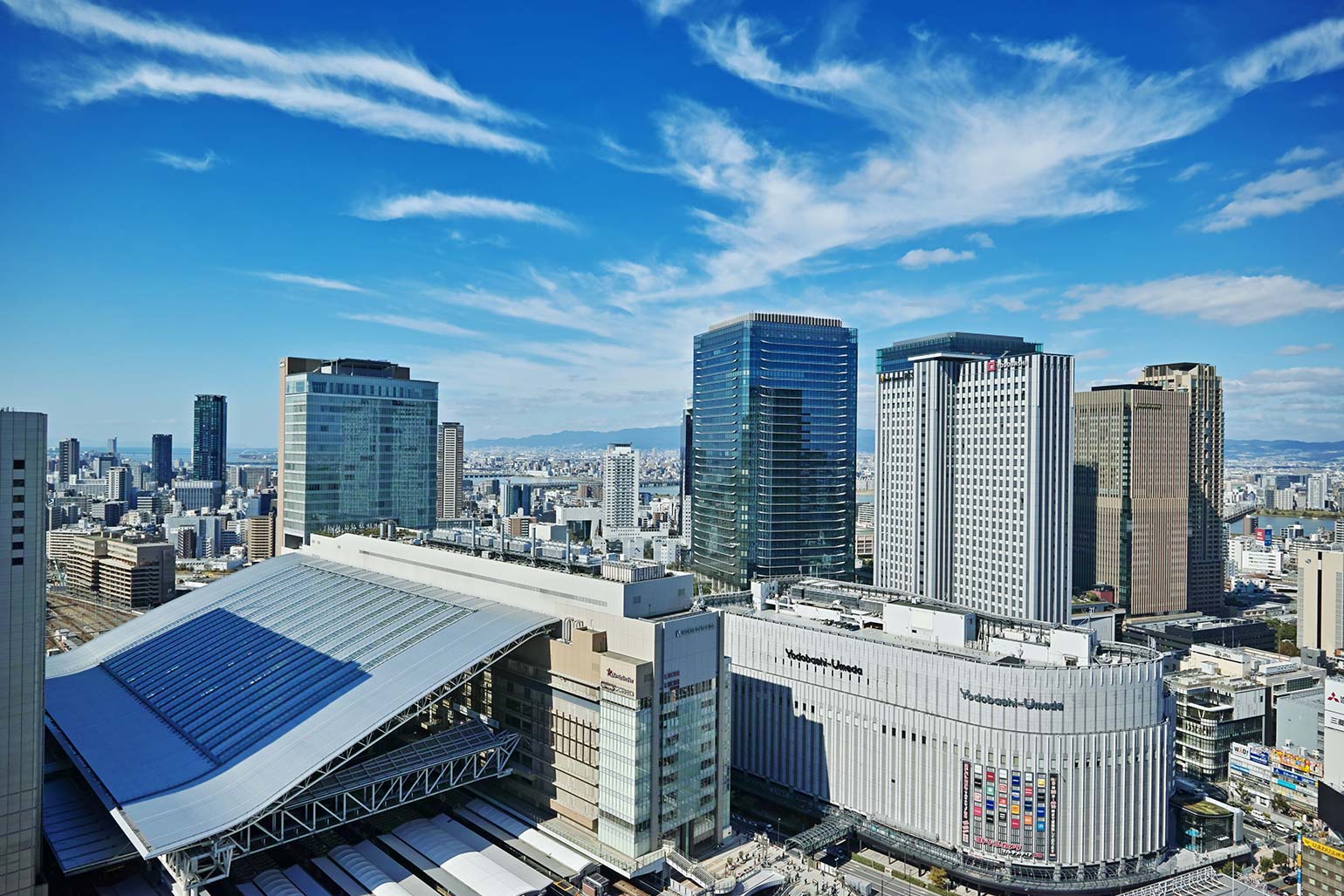 This area is around "JR Osaka Station" and "Umeda Station", and the surrounding areas of "Umeda", "Tenjinbashi", and "Nakanoshima". "Shin-Osaka Station", the stop for the Shinkansen, is another station, just a few minutes by train from here. It's one of the main shopping and business districts in "Osaka". As one of the largest cities in Japan, there is no shortage of transportation options such as trains, buses, and cabs. There are various sightseeing spots in each area, so it is fun to take a walk around.

The starting point for this area will be "Osaka Station City". "JR Osaka Station" and "Umeda Station", the center of train access to various parts of "Osaka" City, are located nearby. The north side area of the city is relatively new and has a metropolitan look. It's a landscape lined with buildings, including "the Umeda Sky Building". There are also many shopping malls and other large-scale commercial facilities. Just west side of the station is an area called "Tenjinbashi". "Osaka Tenmangu Shrine", enshrining Lord Michizane Sugawara, and "Tenjinbashi-suji Shopping Street", the longest shopping street in Japan with a total length of 2.6km, stretching straight north from the shrine, are popular sightseeing spots.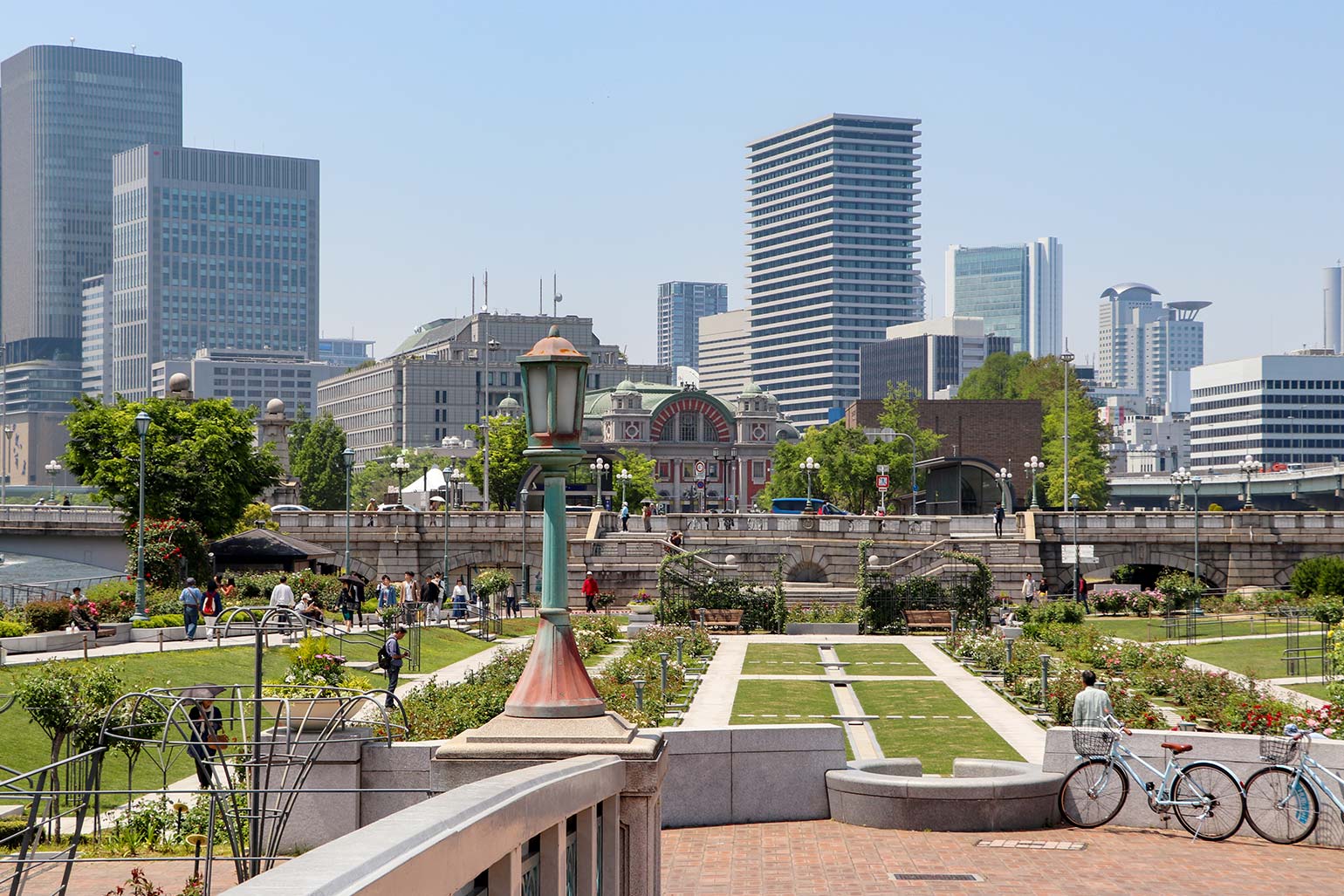 The area south of "JR Osaka Station" and "Umeda Station" is called "Nakanoshima". This area is a sandbar between the Dojima and Tosabori Rivers, and is home to government offices, museums, and science museums. "The Osaka Central Public Hall" is a valuable building that retains the essence of the early days of Japanese modernization. In recent years, events such as projection mapping, called "OSAKA Hikari Renaissance", have been held here and have gained popularity.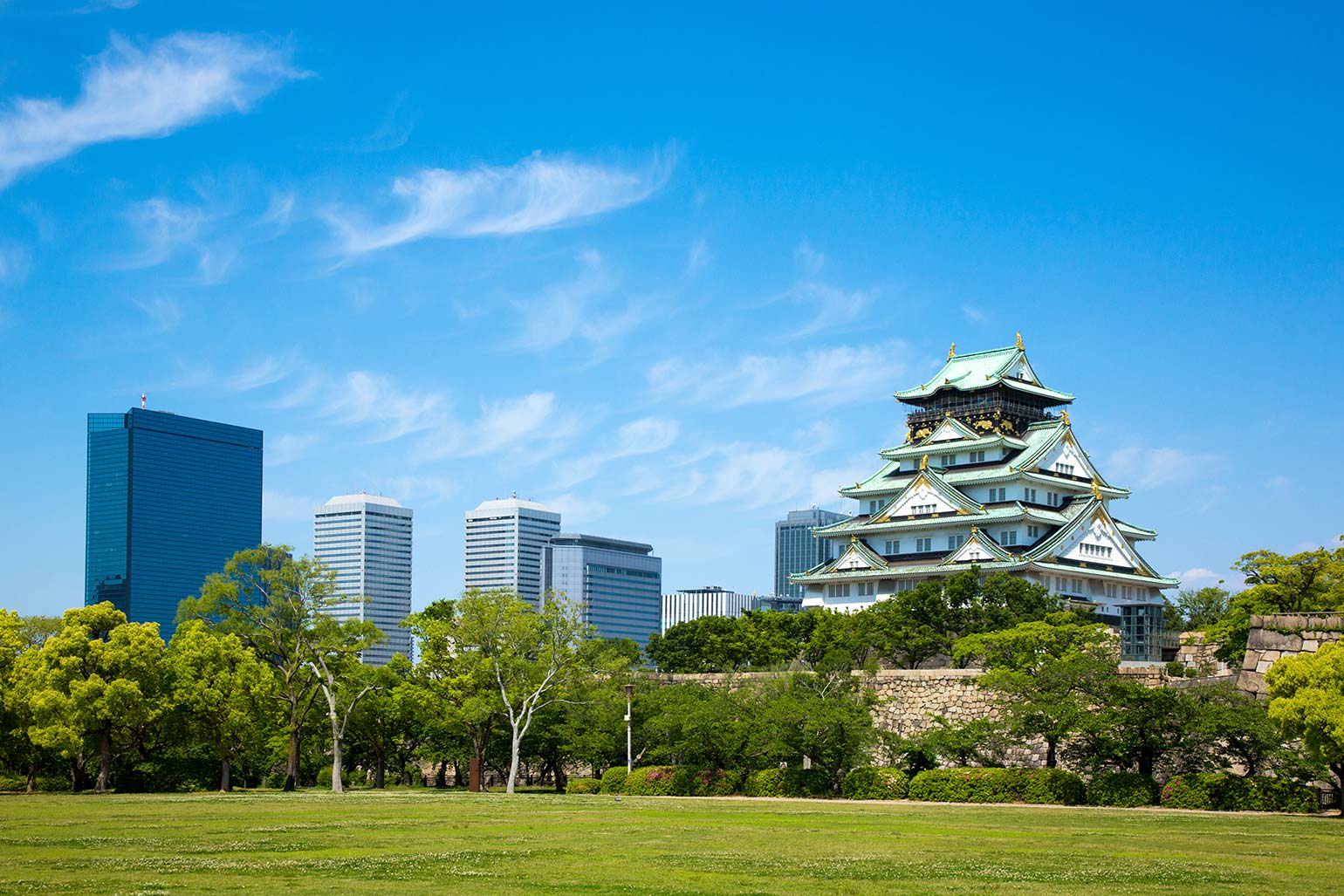 Located on the east side of "Nakanoshima", south of "Tenjinbashi", is "Osaka Castle Park", home to the well-known "Osaka Castle", one of the largest castle structures in Japan built by Toyotomi Hideyoshi. The castle tower of this "Osaka Castle" was rebuilt today, but the moat that surrounds it is the same as it was when it was built. If you walk around the moat, it is more than 10 km long. All of these spots are within about 3~4 km of each other, so you won't have to worry too much about travel time.
"Minami ("Nanba", "Shinsaibashi")"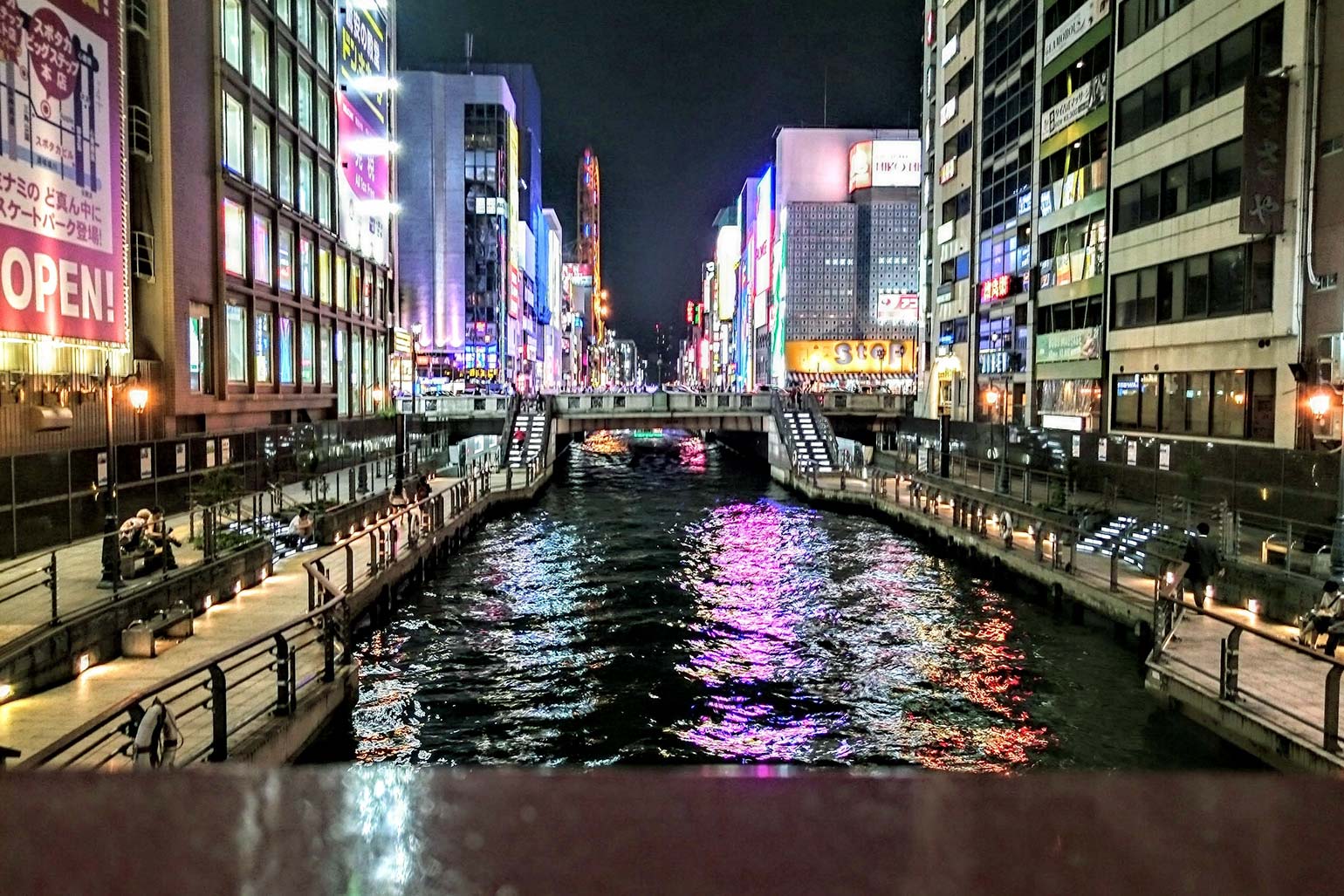 The area around "Namba" and "Shinsaibashi" is also one of the busiest shopping and business areas in "Osaka". It is said that these areas are considered the center of "Kansai" culture in Japan. In recent years, it has become very popular among visitors from overseas. It seems to be very popular, especially with customers from Asian countries that have similar food cultures. It takes about 30 min. by train from "Shin-Osaka Station", and about 20 min. from the aforementioned "Kita" area.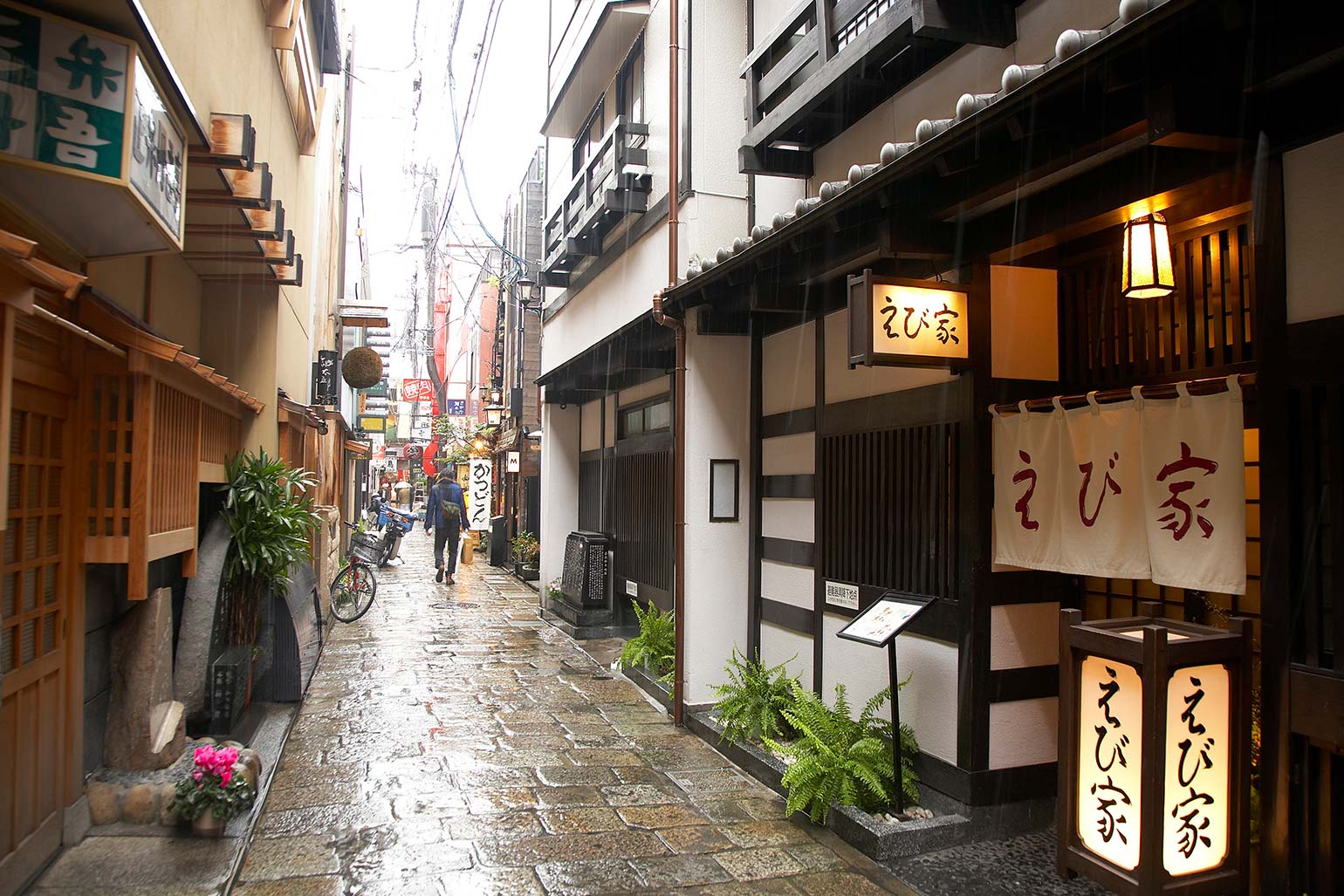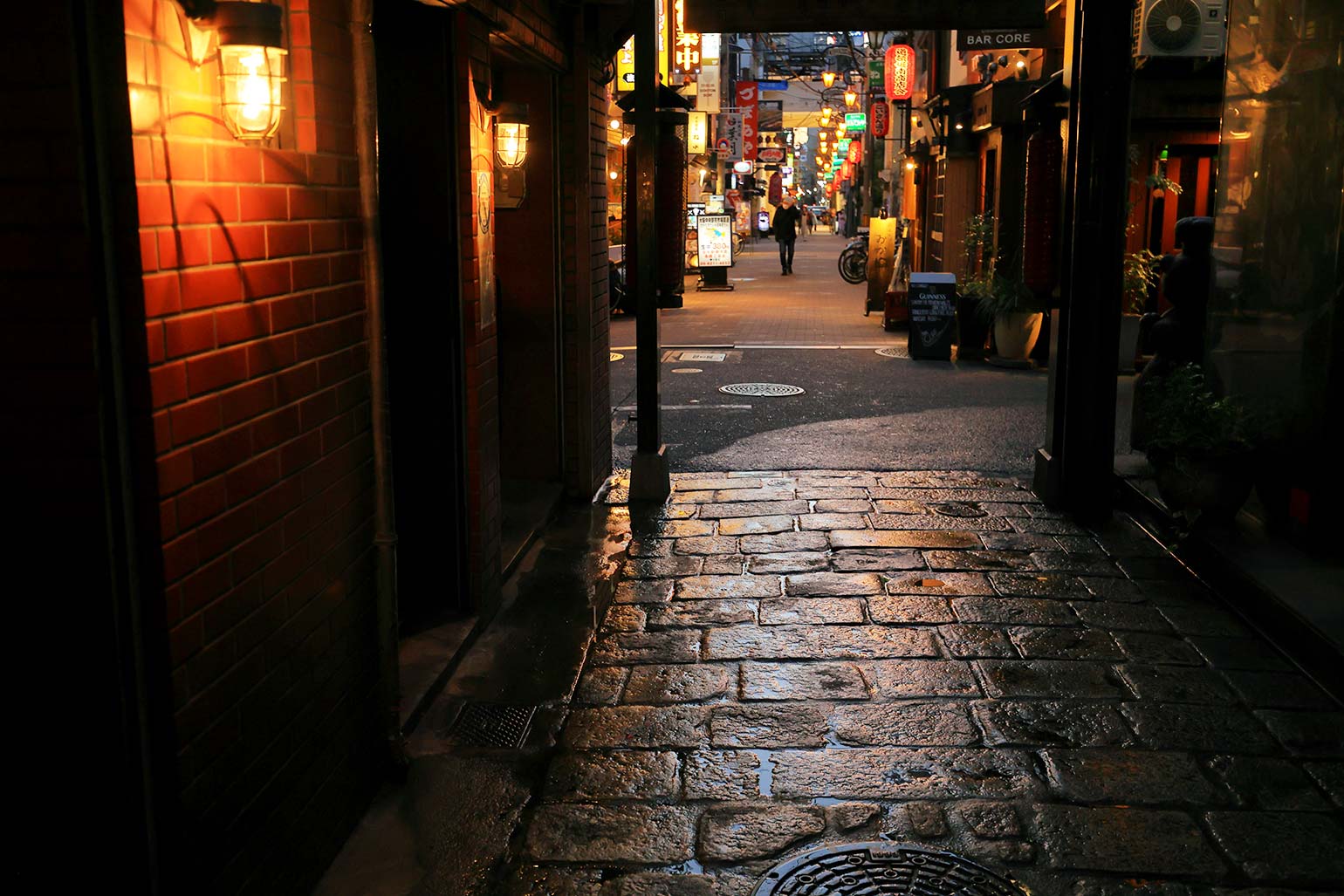 The famous urban cityscape of "Osaka" is probably the "Dotonbori" scene shown here. The night view of the city of "Minami" is very attractive with its bright neon lights. In fact, they are often seen in famous movies. If you want to enjoy the city atmosphere that was used as a scene in movies, "Dotonbori" and "Hozenji Yokocho" are recommended areas. For people who love to eat and drink, this area will be a very entertaining place to visit. For those who like to shop, but will be for a bit of an expert? "Sennichimae Doguya-suji Shopping Street" and "Shinsaibashisuji Shopping Street" are for those who like shopping. What you can get here is not the kind of souvenirs you can find at tourist spots. It is a shopping street where you can find many excellent daily necessities. "Osaka"'s shopping streets have a very unique liveliness and charm. We really hope you enjoy that.
"Tennoji / Shinsekai"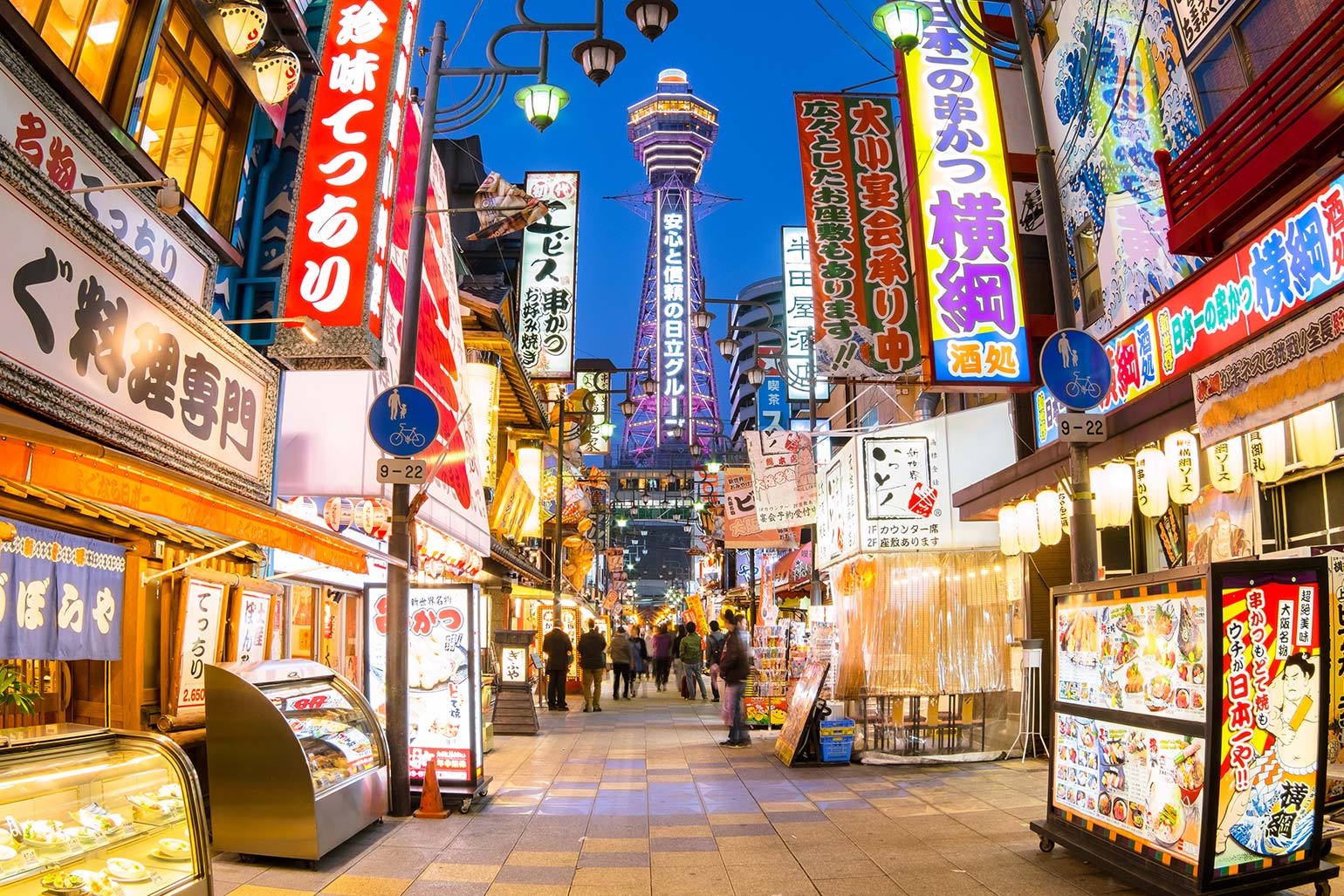 This area retains a relatively old-fashioned "Osaka" cityscape. For Japanese people, they may find the streets a bit nostalgic. It is a lively area that are surrounded by the typical downtown scenery, which is different from "Kita" and "Minami".

"The Tsutenkaku Tower" is said to be modeled after the Eiffel Tower in Paris, and the "Shinsekai" area stretches around it. "The Tennoji Park" and "Tennoji Zoo" are traditional recreational spots for local people. Historically, the area is very old, and there are some very valuable historical buildings such as the "Shitennoji Temple" and "the Sumiyoshi Taisha Shrine" that you should visit. This area has a nostalgic, old-fashioned charm, but it also has facilities that could be said to be the exact opposite of that.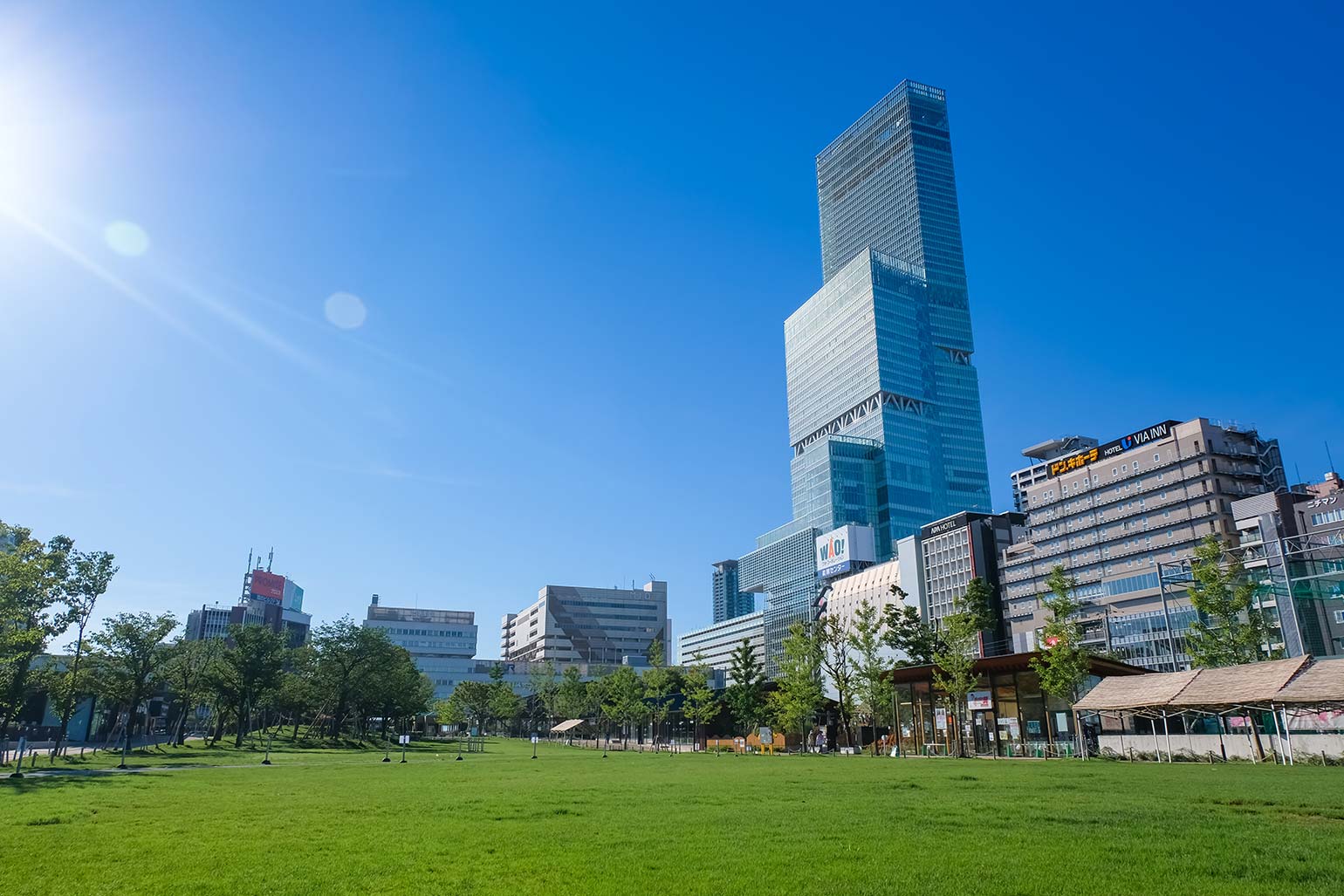 "Abeno Harukas" is currently the tallest skyscraper complex in Japan, with department stores, offices, museums, lodging facilities, and an observatory. This buildhing is very conspicuous because it is very high… Other than that, we recommend "Spa World: World's Greatest Hot Springs". It is a 24-hour hot spring entertainment facility.
The northern area of "Osaka"
This is a suburban area far from the "Osaka" city center. It takes about 40 to 45 min. by train. The area was the site of the Japan World Exposition (EXPO '70), the first to be held in Japan after World War II. Part of the site is now "the Expo Park", and "the Tower of the Sun", the symbol of the park, still remains. It's one of the most historically important places in Japan after World War II. There is also an amusement facility, "EXPOCITY", not far away.
"Osaka Bay" Area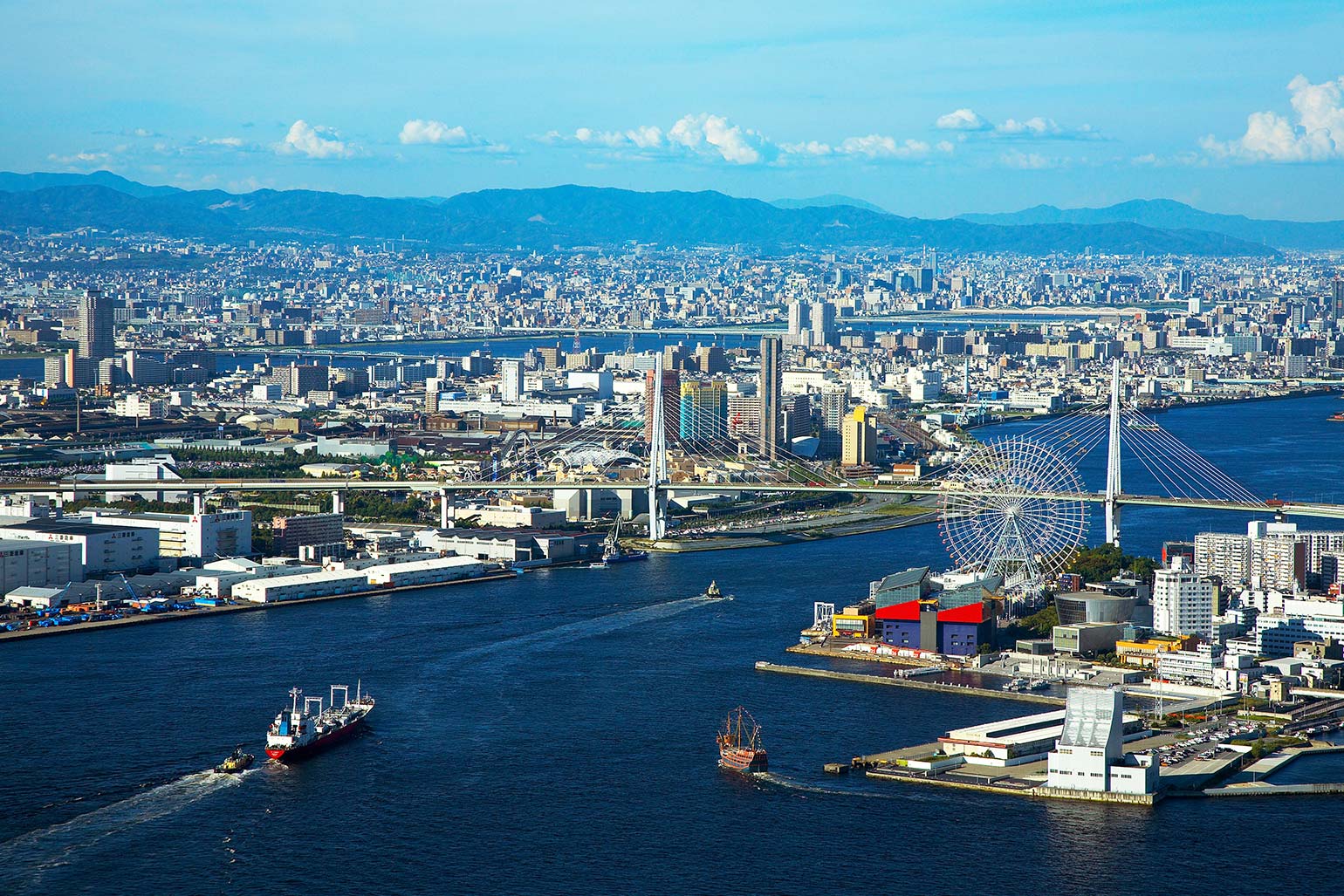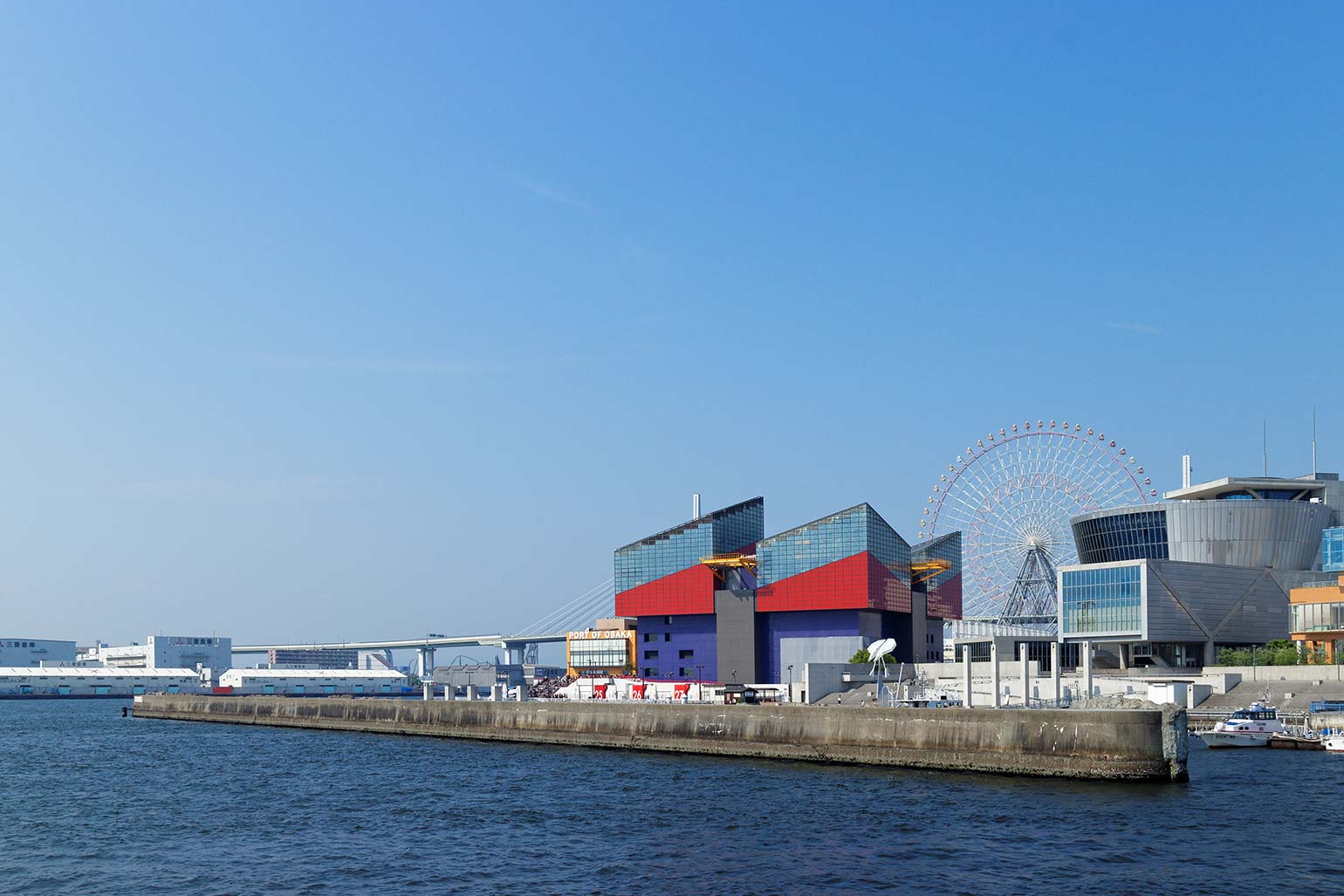 It is the area where faces Osaka Bay, with "Osaka Port" at its center. This area has some of the most popular amusement facilities in Japan, including "Universal Studios Japan (USJ)" and "Kaiyukan", one of the largest aquariums in Japan. You can enjoy a very view of the modern harbor. It takes about 30~40 min. from the city center of "Osaka". It is a lively area where not only adults but also children can have fun.
"Sakai"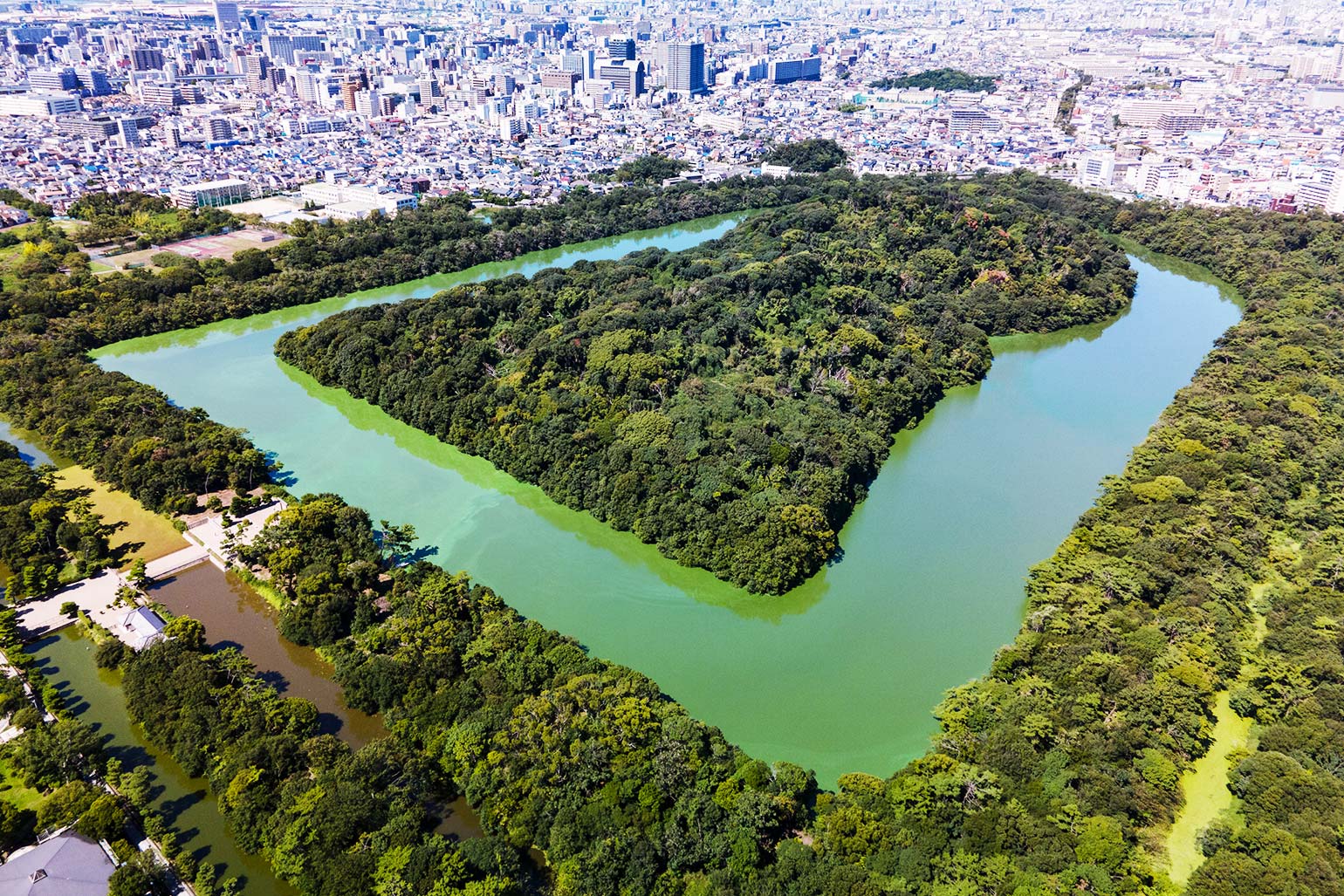 This city is known well as the second largest city for business in Osaka Prefecture. It is one of the transit cities when your visiting "Osaka" from "Kansai International Airport". This "Sakai" area, as well as "Osaka" city area, is often thought to have developed rapidly as a commercial / port city from around the Warring States period, but it is actually an area with a much older history. It's famous for its very large number of old tombs. "The Mozu Kofun Tumulus Group", which includes the famous "Daisenryo Kofun Tumulus (the tomb of Emperor Nintoku)", the largest tumulus in Japan, is registered as a World Heritage site. As a matter of fact, the city was not selected as a candidate for a port to be opened to Europe or the United States at the end of the Edo period because of the presence of these valuable historical heritage tombs. As a result, since the modern era, the city has played a role as one of the industrial cities in the economic metropolitan area centered on "Osaka", as well as a bedroom community.
The main tourist spots around "Osaka"
"Kobe"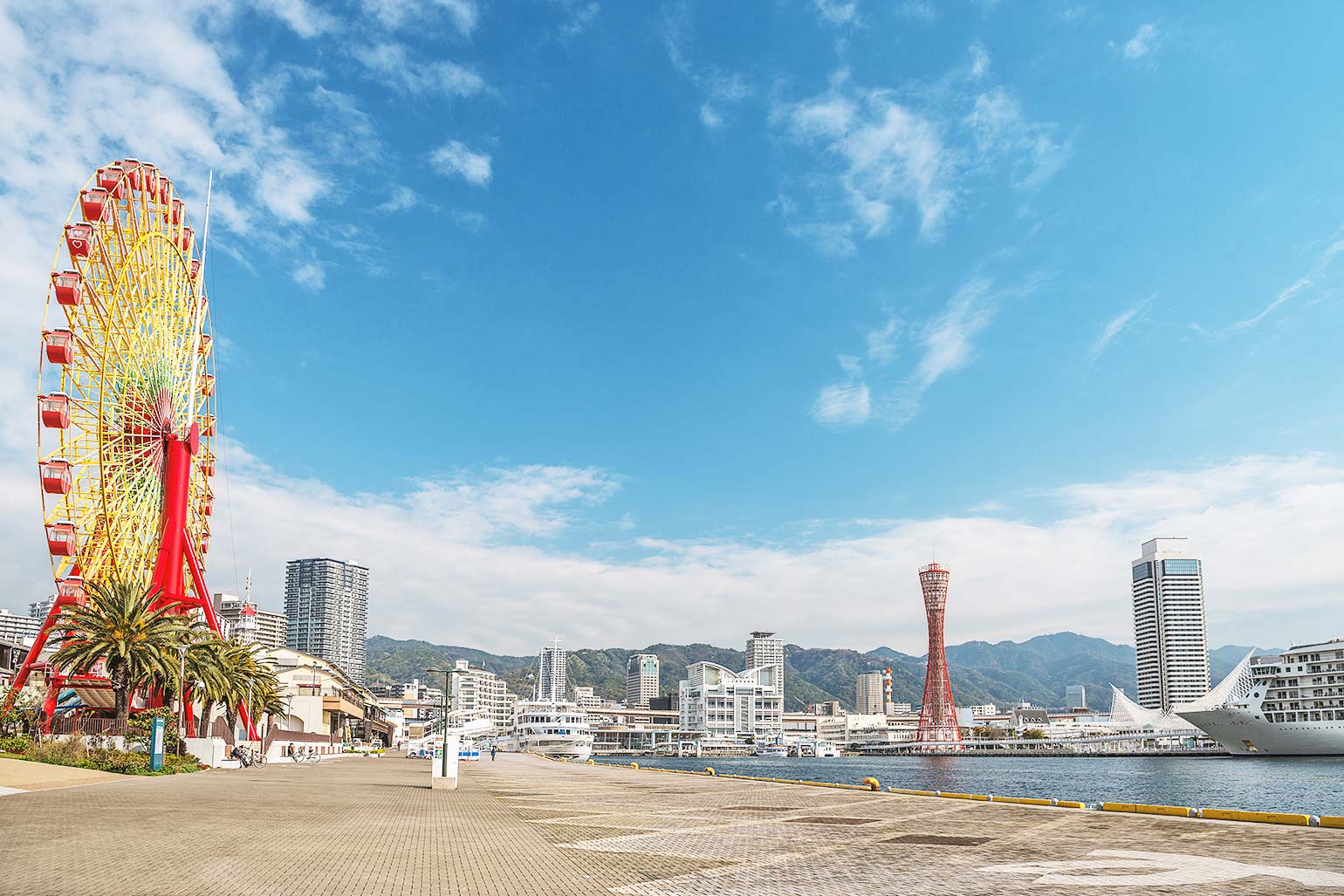 "Kobe" was an inn town on "the Saigoku Kaido" after passing through the large commercial city of "Osaka" city. (※ "Kaido" refers to the roads that were built in the Edo period to connect major cities.)  It used to be a prosperous port town with many ship wholesalers. At the end of the Edo period, "the Kobe Port" was one of the ports opened to the West by the Edo Shogunate. Since then, it has developed into one of the leading port cities in Japan.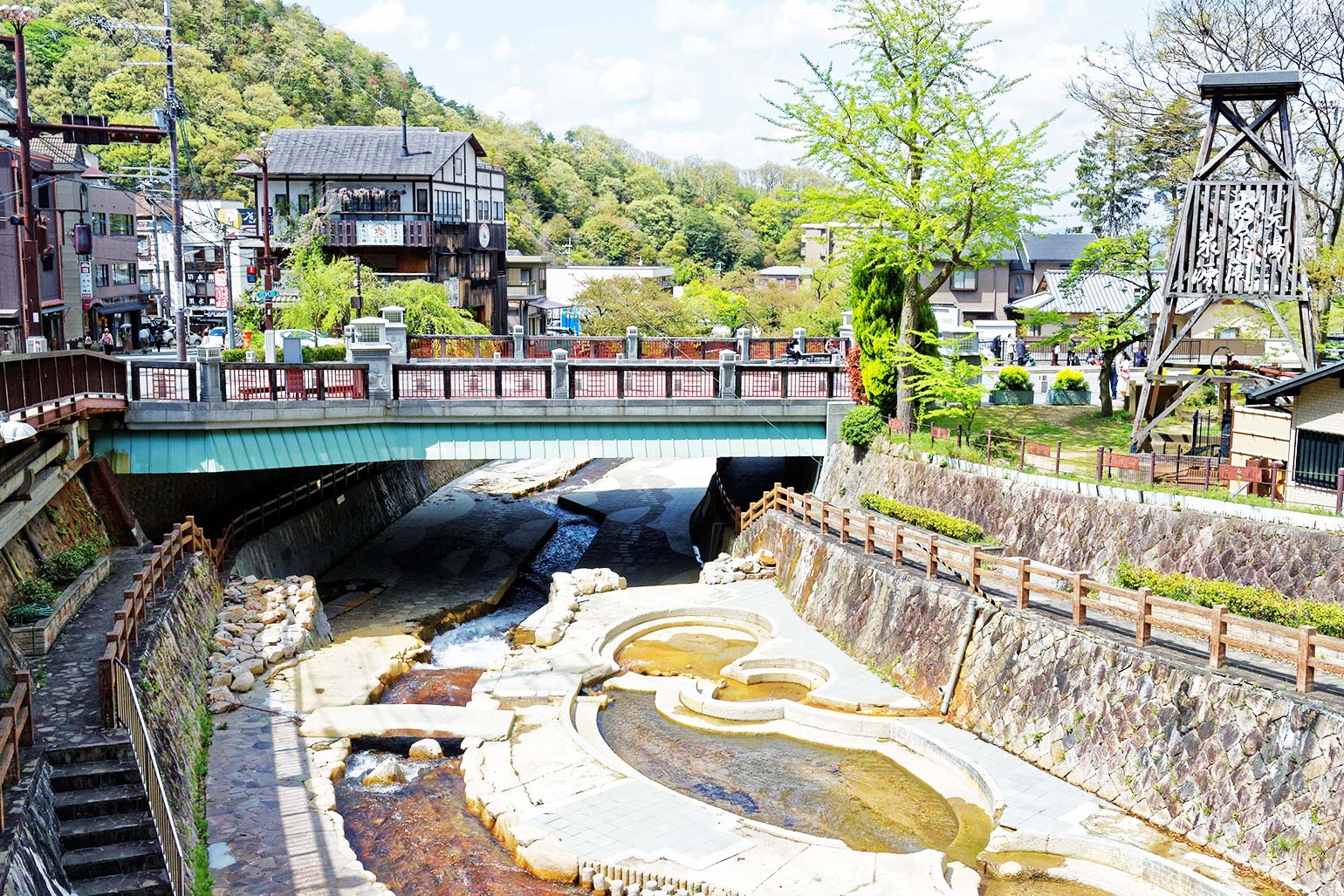 This city is also blessed with good access to other major cities, such as "Shin-Kobe Station" or "Kobe Airport", and is now a popular tourist destination. "Arima Onsen", famous as one of the oldest hot springs in Japan, is very popular. The city is also famous for its famous shrines with a very long history, such as "Ikuta Shrine", "Nagata Shrine", and "Minatogawa Shrine", known as the Three Shrines of "Kobe". To tell you the truth, this area is older than "Osaka".
"Awaji Island"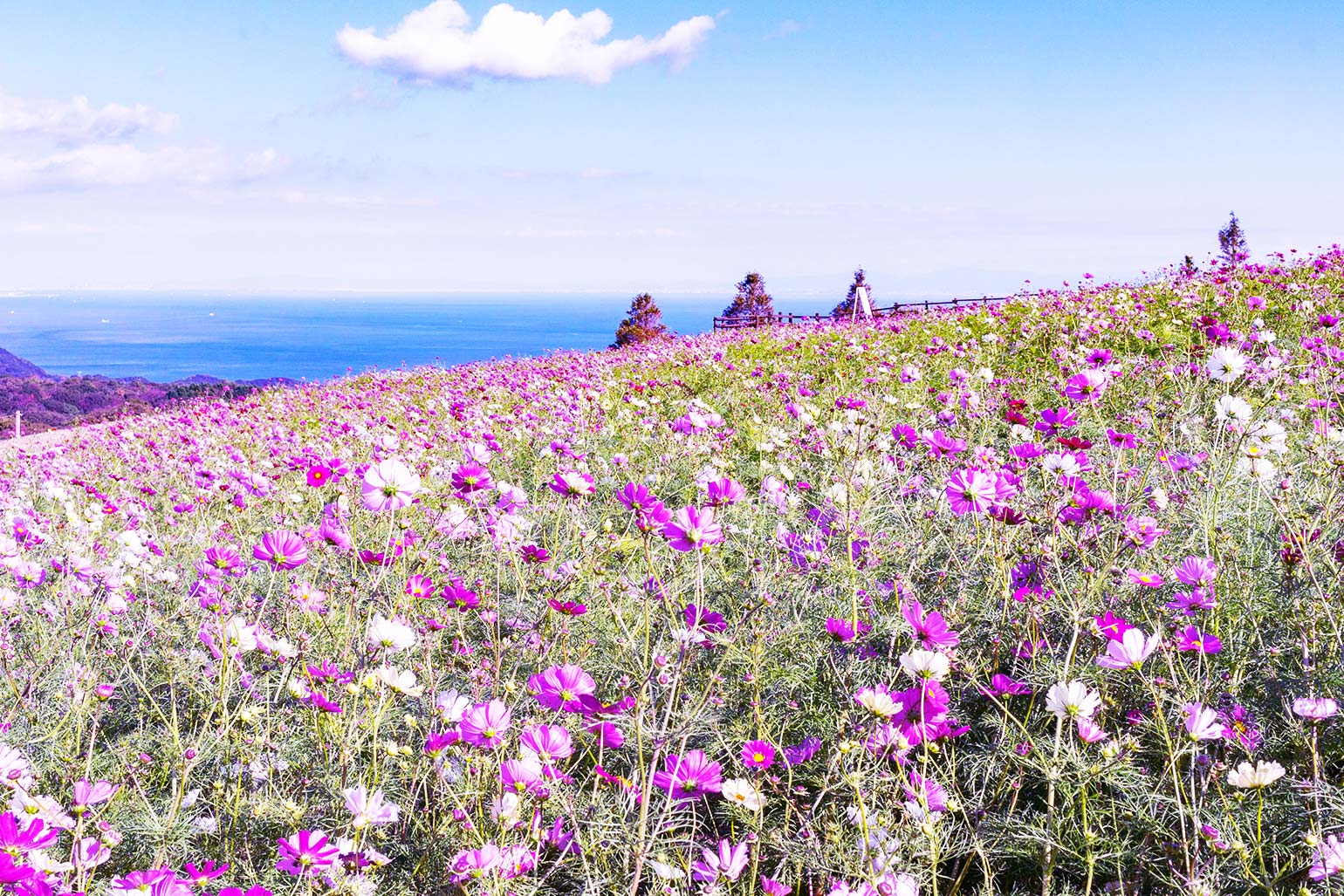 "Awaji Island" is located in the southern part of Hyogo Prefecture in the eastern part of the Seto Inland Sea. It is connected to Honshu by "the Akashi Kaikyo Bridge" and to Shikoku by the "Onaruto Bridge". Since there is no railroad service, the only means of transportation on the island is by car or bus. The route from Honshu to Shikoku via "Awaji Island" is one of the most popular driving courses. If you use public transportation, a one-day free ticket that includes unlimited rides on highway buses from the mainland and buses in the Kita-Awaji area is a good deal. By the way, according to Japanese mythology, this "Awaji Island" was the first island to be created. In other words, it's no exaggeration to say that this is the oldest region in Japan.
"Kyoto"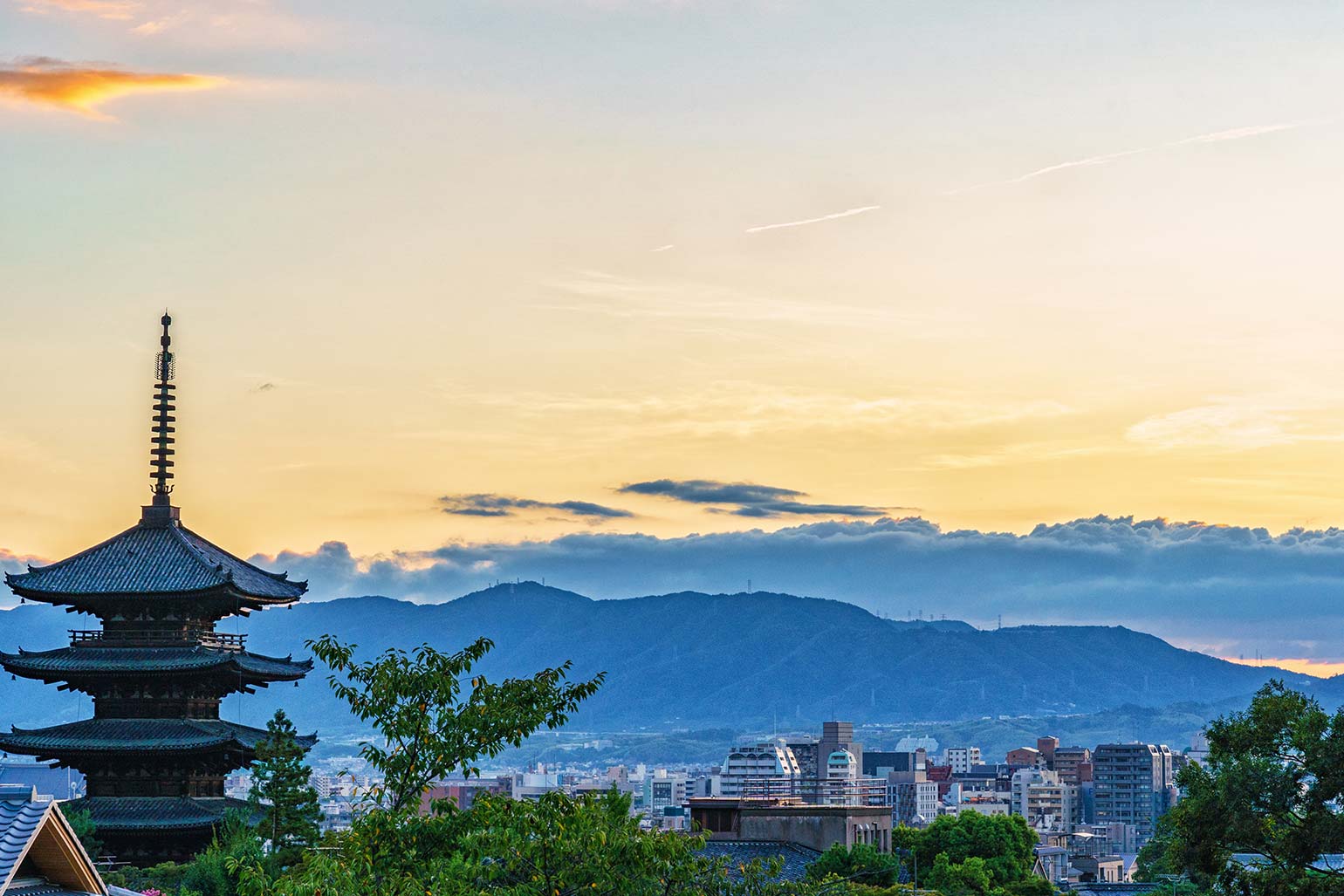 It takes less than 30 min. from "Osaka" by train (regular train) and less than 15 min. by Shinkansen. It's very close. So, please come and visit there. For more information about sightseeing in "Kyoto", please see the other page.
→ https://epic-j.com/sightseeing/main-cities/kyoto/
"Nara"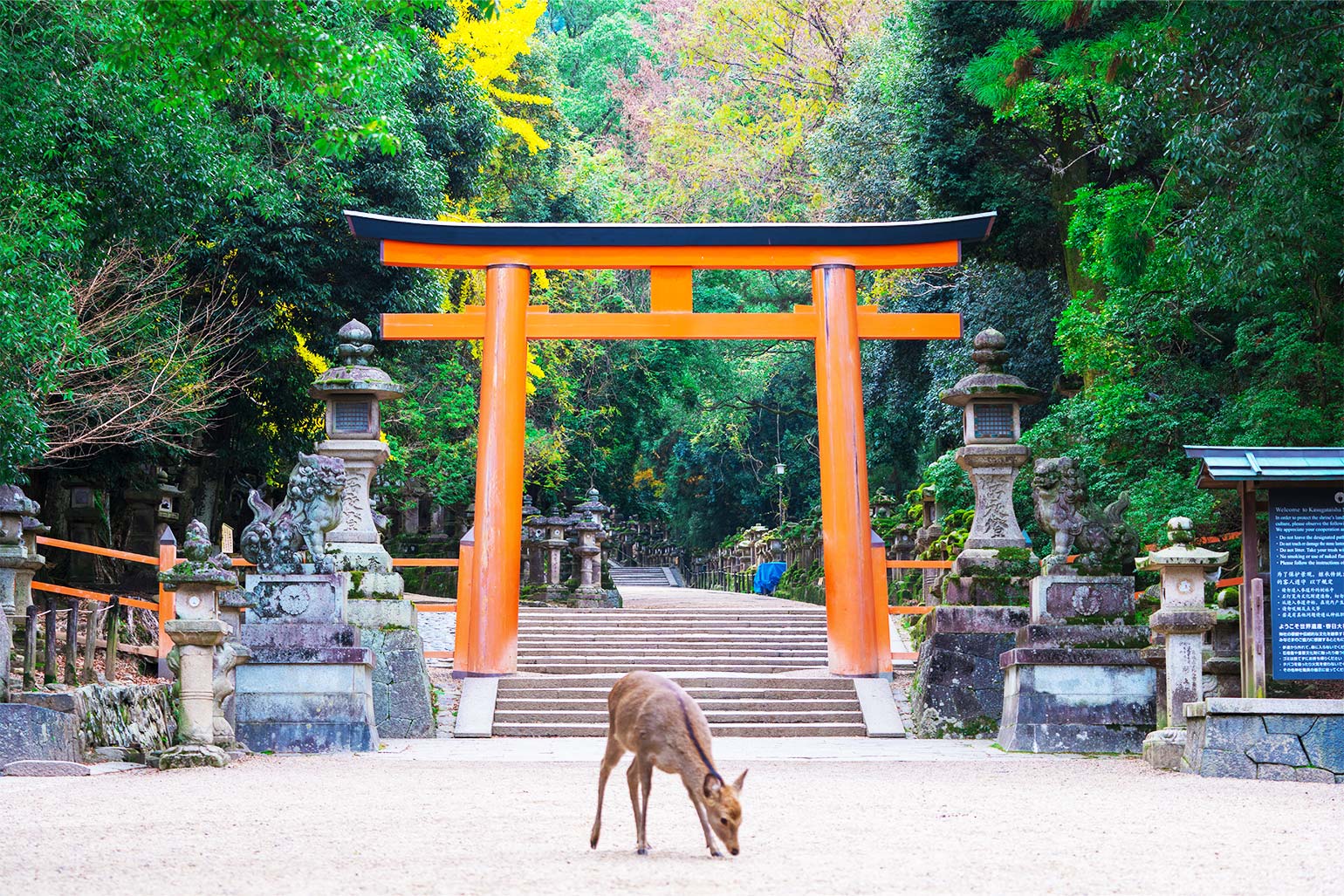 Before the capital was moved to "Kyoto", the capital of Japan was located here in "Nara". In particular, "the Heijo-kyo Capital", which is the urban area of present-day "Nara", was a capital that strongly reflected the blossoming aristocratic and Buddhist culture of the time. Today, many of its historical heritages are still preserved, and the city is a treasure trove of valuable and important cultural assets.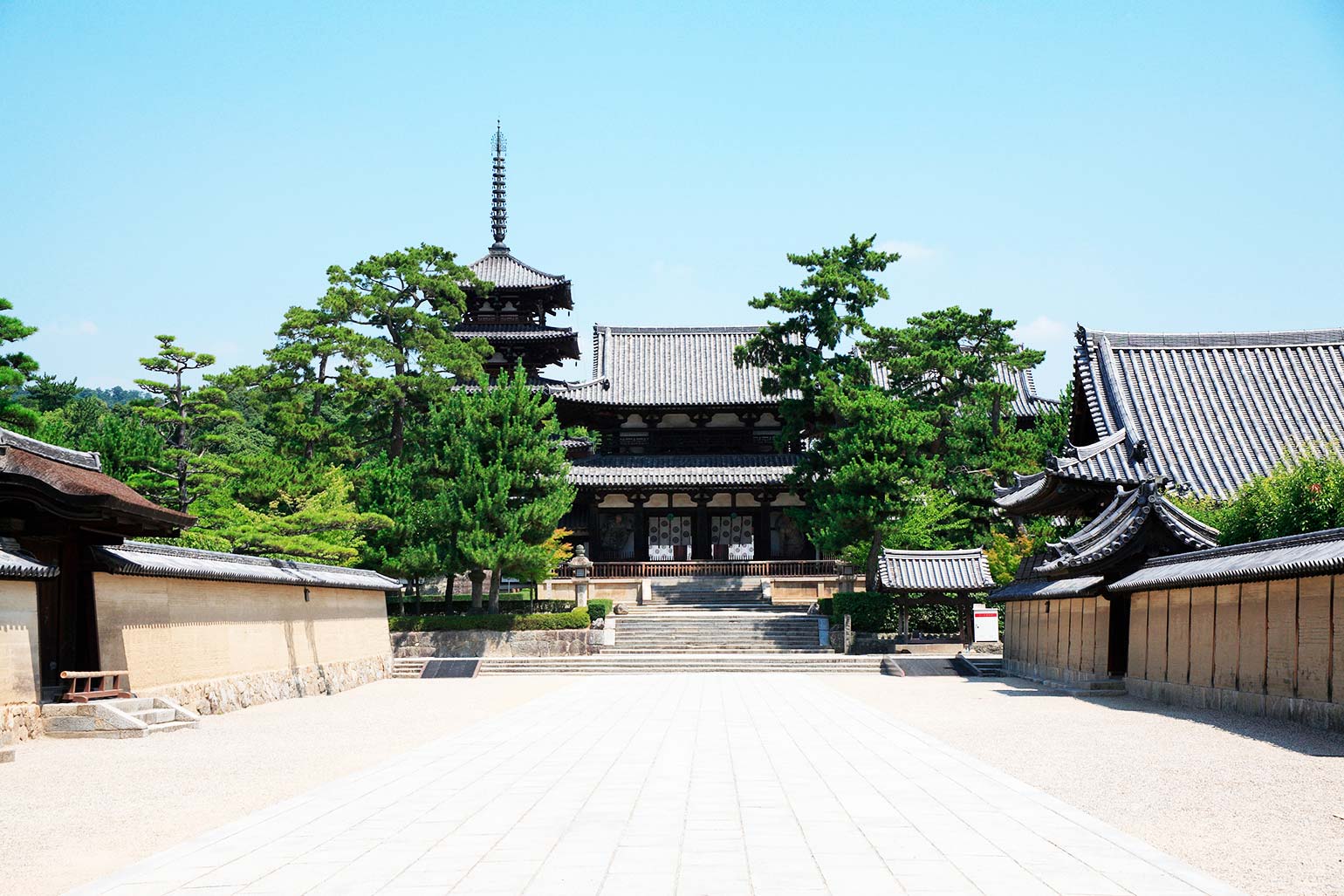 During the period when the capital was located in "Nara", Buddhism from the continent flourished. As a result, there are many Buddhist temples left in this area. "Horyuji Temple", the world's oldest surviving wooden structure, is one of the most well known temples overseas. Another famous temple will be "Todaiji Temple", known for the "Great Buddha of Nara". "The Kasuga Taisha Shrine" is also popular for its "Meoto Daikokusha (called married couple shrine)". It is a city worth exploring, with a collection of historical buildings that almost every elementary and junior high school student in Japan knows, such as "Omiwa Shrine", which is said to be the oldest shrine in Japan and is recorded in "Kojiki" and "Nihonshoki".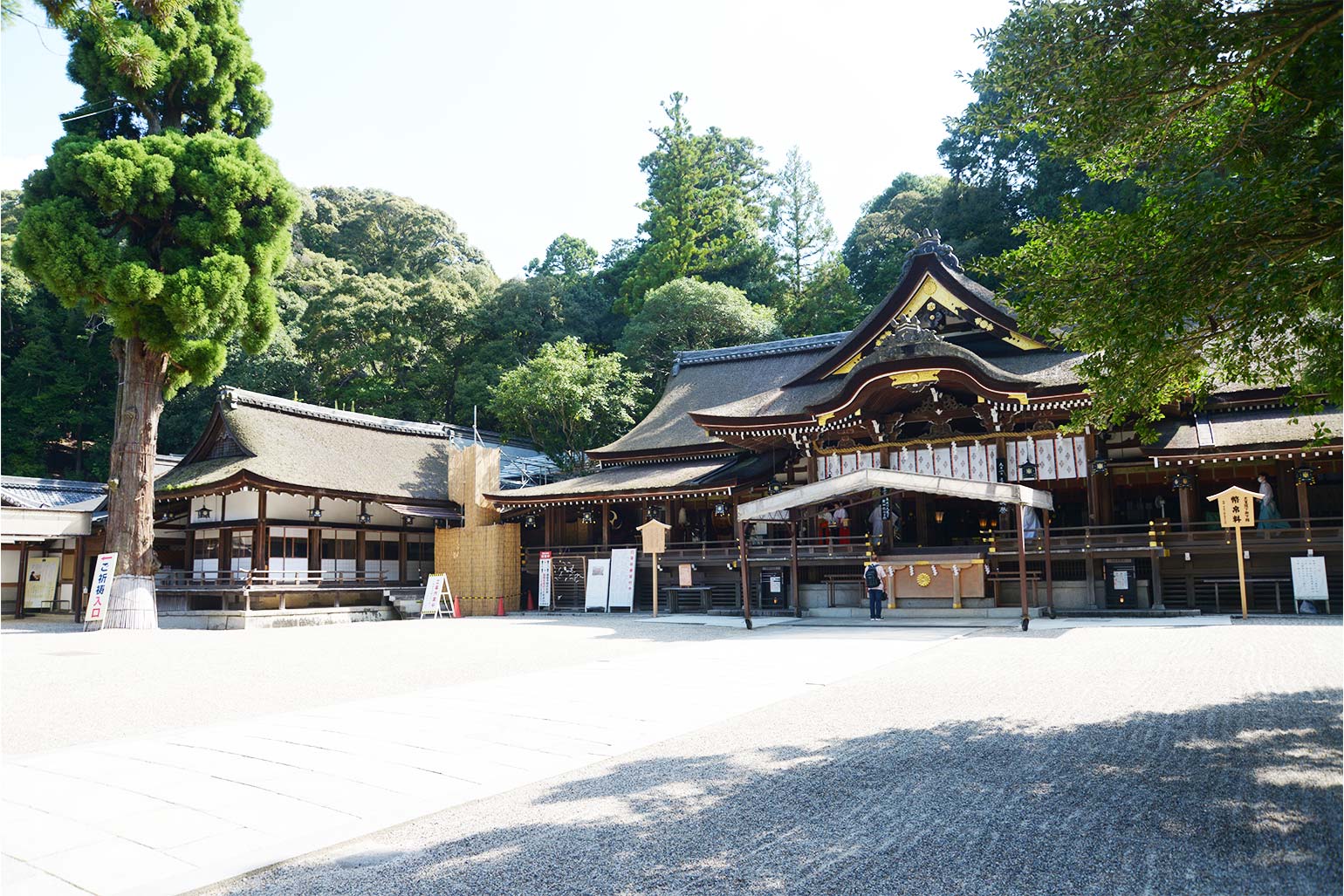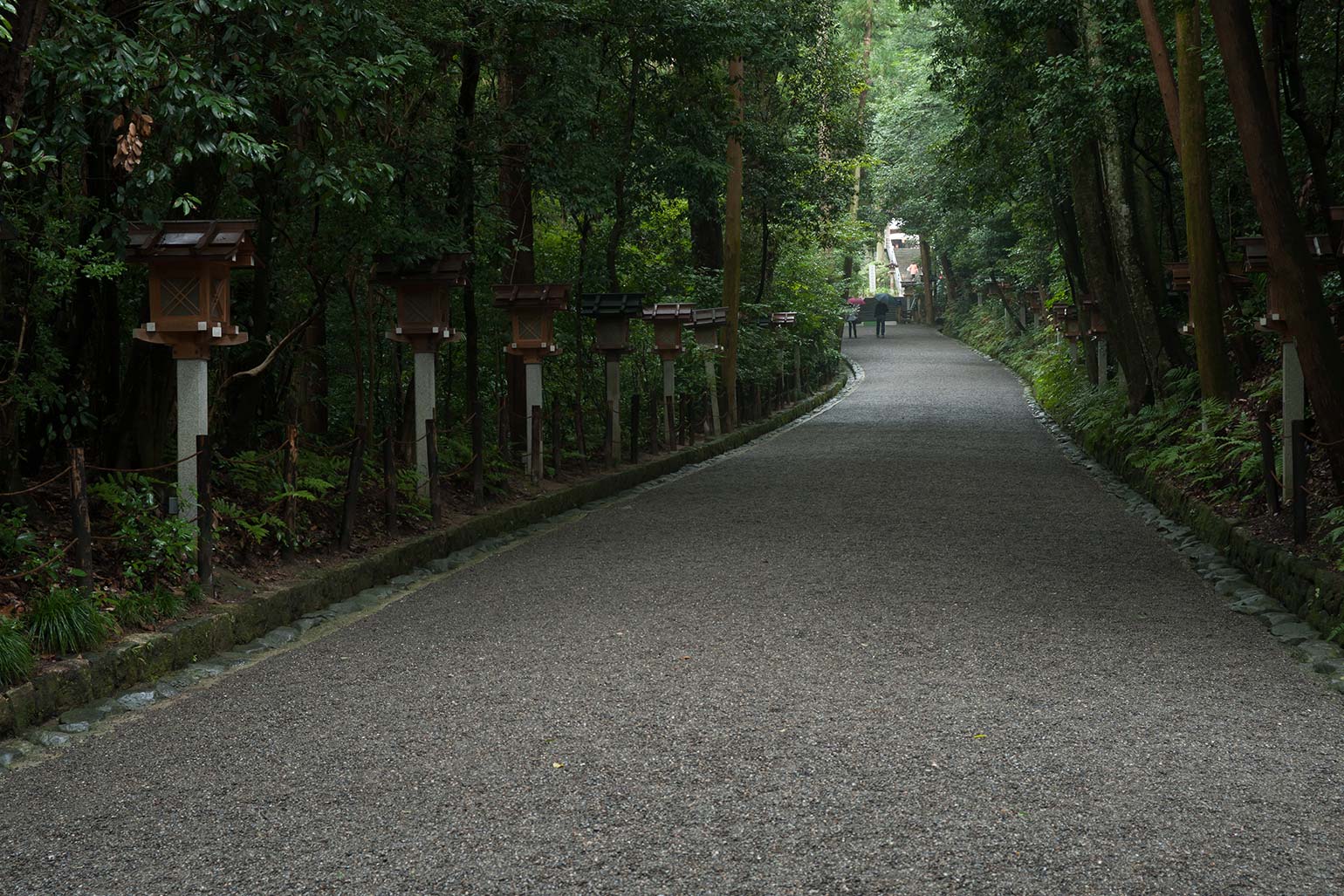 By train, it will take about one hour from "Kyoto" or "Osaka", and about one and a half hours from "Nagoya". You can visit the site with relatively little effort. It's not as crowded as "Osaka" or "Kyoto", so it's highly recommended for a relaxing stay. Please visit there.