How to bathe in onsen
Throughout the world, people bathe for different reasons. Bathing is a broad category that can include rituals such as purification and receiving a blessing. Bathing can also be regarded as the simple daily activity of immersing oneself into the water. There are various ideas about what bathing is and what ways of bathing exist. Having a shower is a prevalent form of bathing in some areas, but in other areas, the same can be told about going to the sauna bath.
Anyway, if we were to tell about Japan… "O-Furo", the Japanese word for bath, is considered the general form of bathing, where the bathtub is simply filled with hot water. Of course, Japan is not the only country where the onsen (hot spring) culture can be found. Amongst the people who live abroad in different countries, there must be some who have been to an onsen before. You might have heard of the Blue Lagoon in Iceland, Cascate del Mulino in Italy, Szechenyi bath in Hungary, just to mention a few renown names of onsen abroad. For the ones who love bathing, an onsen is a heaven. To be more specific, visiting an onsen is to Japanese people, what visiting a waterfall of fine wine would be to a master sommelier.
We are going off tracks… So, talking about Japanese onsen, we must highlight that it's different from any kind of amusement facilities that can be seen abroad. If we were to describe it, we could just think of our daily life bath and imagine entering it all together. It's that kind of place. It's not that you cannot have fun at the onsen, but do bear in mind that there are some rules to follow and manners to adopt. Many of the people from abroad who visited an onsen for the first time in Japan, were confused about how to use the space provided. This is why we thought to give you an outline here of things to bear in mind when visiting a Japanese onsen. We hope they are useful.
Character of "Onsen"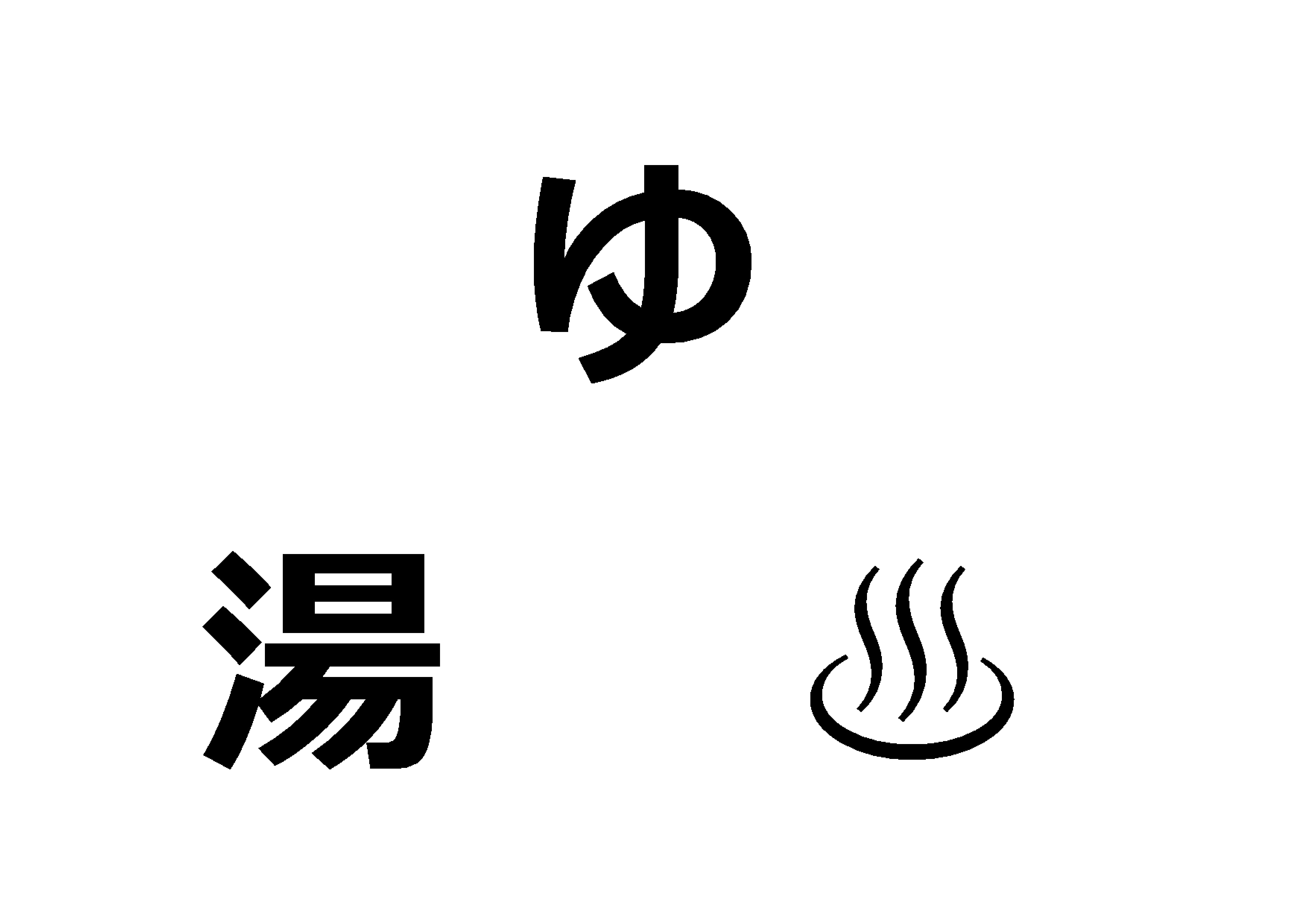 First of all, try to remember the following characters : 「ゆ」「湯」「♨」
They all mean "onsen". Unfortunately, it's not a joke! If you go to an onsen district, you will catch sight of these characters to the point of hallucination. So, you will remember them even if you don't want to.
If you are in an old "Ryokan (Japanese traditional lodging)" or in a big hotel, you might get quite lost. It sometimes happens that those places have a complex structure… However, if you remember at least there three characters, you will find your way to the onsen. That said, finding the way back to your room is your responsibility!
Men's bath and women's bath
In general, the Japanese bath is divided into two sections: the one for males and the one for women. The characters 「男」 (men),「殿方」(gentlemen), black, blue or displayed in cold colours, is the section reserved to men. The characters 「女」(women),「姫」(princesses) in red or other warm colours, mark the beginning of the section reserved to women. Recently, the above characters are also accompanied by the English equivalent so you can rest in peace. However, just in case, try to remember the characters too.
It depends on the place, but you may find this combination of characters: 「男湯」(men's bath),「女湯」(women's bath) The materials of the bathtub can sometimes vary between female and male's bath. For instance, one could be made of ceramic whilst the other one of wood or vice versa. On certain days and times, the signs indicating the access to male and women's bath will be swapped so that you can get to experience something different.
By the way, mixed does exist and it is used by men and women at the same time. Of course, it is forbidden to wear clothes but…
Let's take a bath now!
All right, you have the necessary knowledge… so we can now enter the onsen! There quite a few rules that can seem trivial but once you get used to them you will be fine!
When you go to an onsen, you might be told that you have to "enter three times". The first time is as soon as you have arrived at the Japanese inn "Ryokan" we mentioned above. That's to wash away all the sweat from finding and arriving at the Ryokan. The second one is after dinner, to make the most of relaxation before going to sleep. The third one is in the morning on the next day. Alongside with the sound of your alarm, you are ready to continue your journey. If you really try to do it, the traveler's feeling will concretize… it's kind of a good experience.
Let's move on to the…
① Dressing room
This is the place to change your clothes. Wearing shoes or slippers here is forbidden. Recently, there are many places that provide lockers with a key but there are still many places with only open shelves. In the latter of the cases, a basket for your clothes and other belongings is usually provided. Somehow, that kind of scenery makes one feel like being at the onsen.
It may be too late to get back but… In Japanese onsen, it is forbidden to wear clothes (including a swimming suit). As it happens for some 'health spa', also in the case of onsen there might be some places where clothes are allowed inside. It seems like there is a considerable number of customers from abroad who are not aware of the rule. For those of you who may worry about this, we suggest looking it up beforehand.
② What you are allowed (and not) into the bath
You are not allowed to take in any electronic devices. As for washing products such as shampoo, hair conditioner, body, and face soap, you are generally allowed to take it with you but do not take it with you into the bathtub. By no means!
There are also places that provide shampoo, conditioner, and body soap so you do not need to take yours. The quality of these products can vary according to the onsen. Depending on the type of product, there might even be products that do not release any foam at all. From that, you can tell that the products provided were placed thereupon consideration of the components of the onsen itself.
As for your valuables, it would be better not to take them to the onsen at all: they might be stolen or lost. To tell the truth, it is not as safe as foreign people tend to think. If a key locker is provided, definitely use it.
③ Washing your body
So let's enter the bathing area. In general, once you enter the bathing area, you will find showers with taps and mirrors lined up in a row. At the side, there should be bath chairs and some buckets you can grab.
This is where you should wash your body. Upon entering the onsen, in order to be ready to enter into the bathtub, you should cleanse your body. Especially if you have a lot of sweat, mud, sand or just dust on yourself. Would you dare to go into the bathtub in those conditions? We guess not!
So please wash your body thoroughly. Even if you are not as dirty as the portrayal above, still have a shower, all right?
Now a small digression… The water of the shower and the tap can gush forth and it often the case that is has a strong flow. You might even feel as if you were being dragged away by it! Just imagine the cap of a shaken carbonated drink about to fly and the drink fizzing vigorously, or you could also picture the strength of a water rocket. That kind of feeling… Some people enjoy the strong flow but theirs, not the one coming from others. So be careful not to splash your water onto others!
When you wash your body, wash away also all the foam you might have on you. It would be a big mistake to enter the bathtub with foam still on you.
④ "Kake-Yu" (hot water pouring)
Finally, when you are about to fulfill your cherished desire of entering the onsen for once, you cannot yet. One more little effort to make!
That's called "Kake-Yu". "Kake" means to put on the "Yu", you already know by now, is the hot water. Before entering the bathtub, let's take some hot water from the tap and pour it onto our body. On one hand, that is to give a final chance to any dirt and sweat to be washed away. On the other hand, "Kake-Yu" also helps the body to get used to the temperature of the onsen: there is onsen with the water kept at an extremely high temperature.
⑤ Now we can immerse ourselves into the bathtub…
Sorry for keeping you wait.
Are you immersed? Now, please be careful never to drop your towels into the bathtub. Especially the ones that you used to scrub your body. You will notice that many people fold their hand towel and put it onto or, alternatively, wrap it around their heads. You can do the same.
How about swimming in the bathtub? It sounds fun, but NO. Also, do not let any kind of buckets flow onto the water in the bathtub. In a limited part of onsen, there might be some buckets already placed onto the water to enjoy "Sake (Japanese alcohol)" but except for that, buckets in the bathtub are forbidden.
Just to be double sure, taking any kind of drinks and food into the bathtub is also forbidden!
⑥ Coming out of the bathtub
By now, you will have dozed off, blown away into a dimension of only calmness and good feelings. Make sure not to get dizzy though. Get out when you feel like you spent just enough time immersed inside.
The level of silkiness might vary on what onsen you visit, but your skin will be smoother. We understand that some might be reluctant to this, but it would be better not to wash your body after having entered the onsen. This is because you might be deprived of some beneficial after-effects onsen water is capable of. If you really do want to wash your body after having entered the onsen, feel free to do so by using the shower provided. Still, do it gently.
⑦ Dressing roomⅡ
Wipe your body thoroughly. Be careful not to drip any water drops on the floor. To dry your hair, you can make use of the electric fan or the hairdryer provided. Since they are shared facilities, be always respectful towards others and do not use them for too long. Also, do not forget that these are electronic devices so they mustn't be handled with wet hands.
"Rotenburo" (open-air bath)
"Rotenburo" is the word we use to describe the open-air bath. No worries! Thanks to the fences and walls around the construction nobody will be able to see you even from the outside!
Since it's outside, the part of the body outside of the water stays fresh the whole time. It's really hard to lose one's cool in there! In colder areas and colder seasons, the good sensation of being immersed in a "Rotenburo" is double. Definitely give it a try once!
Sauna bath
There are many onsens that are furnished with a sauna as well.
Do you like going to the sauna? We should be ashamed, but not very fond of it. When we am in the sauna, we have the same attitude as pot noodles, that are cooked and rise up quicker than you would expect. We might be the last person to be able to give instructions about going to the sauna, but we was kindly instructed by a sauna expert. we hope some of the following can be useful to you.
① Entering the sauna
You do not need to knock on the door… However, make a point of shutting the sauna door as quickly as you possibly can, as the air from outside could come inside and decrease the temperature inside. There might be some people who are sitting inside and are exactly praying for someone to let some fresh air in but still…
② Take a free seat
We guess you too wouldn't want to sit on someone…
③ Resist
It seems like a battle against yourself. Imagine the refreshing feeling you will get once outside, have wild ideas and time in there will fly. Do not go beyond your limits. Not in the sauna!
④ Cooling down the body
No need to mention the amount of sweat you will have on you by then. Let's wash it away.
There are people who just have a quick shower, others who also enter the provided bathtub of cold water. There are some places where it is okay to enter directly into the cold-water bathtub without taking a shower. Let's always follow the rules of each sauna. However, entering the other baths straight after the sauna is a different kettle of fish! Do not! As a rule of thumb, you need to wash and get rid of any sweat before bathing again.
Now follow the rules and go into action!? Try the bath and the sauna. Have a sauna for me too, if you want, because I will never step in there…
Indoor bath for private or family use
This facility is limited to some accommodations but the rules are the same as the ones described above. Here, you have the charm of feeling your privacy more than in the bath shared with other people.
Coffee and milk
Spending time at the onsen actually takes away more energy of your body than you may think. It's not like the "Healing spring" that appears on RPG. So, let's make sure to drink enough water.
So, coffee and milk are ready for you to buy upon exiting the dressing room. Drinking coffee and milk after having being immersed in the onsen is a part of our traditional culture. Try to drink it!
Up to here, we have outlined the general ways of use of a Japanese onsen. How does this all make you feel?
Without any doubt, the onsen is a place to enjoy. The rules we have explained above and we would like you to bear in mind are, more than anything else, an act of consideration towards others. In order for everybody to enjoy the time spent at the onsen, we all need to respect these rules and respect one another.