There are some food ingredients that are only eaten in a certain country or region, aren't there? Such differences in food culture might seem very peculiar to people from other cultures and countries / regions. For people from different regions and cultures, it is not considered as an ingredient, so it is not surprising that they are surprised by the difference in food culture. Just like… "What? Can eat it? ~(゚Д゚;)/" It might be often the case that the food is unique to a country or region. Or it is not found in other regions (Due to different habitats). Other reason might be because there is a cultural or religious reason for not eating it. Other possible causes include differences in taste and flavor preferences, or differences in the cooking methods used in daily life. However, "Burdock", a unique Japanese food that we will show you in this article, may be a food that falls a little outside of such reasons. In Japanese, "Burdock" is called "Gobo".
"Burdock" is a member of the Asteraceae family, and the roots of it are eaten in Japan. It was introduced to Japan in the Heian period (End of 8th century~12th). It is said to have been introduced from the continent as a kind of medicinal herb (herbal medicine). (※According to one theory, it was introduced more than a thousand years ago…) Later, it was cultivated for edible plants, and it spread throughout the country as a common foodplant in Japan. As a result, it has been bred and improved in each region and has become one of the ingredients for traditional Japanese cuisine. In some regions, there are burdock dishes that have become a standard New Year's dish. This "Burdock" is not customary to eat in other countries… It is said that eating burdock is a unique Japanese food culture. Most of the plants that are eaten in Japan today originally came from overseas. Of course, all of them were introduced to Japan as food that was already being eaten overseas. But… "Burdock" was only a plant that was brought to Japan as a medicinal herb. It wasn't the kind of food people ate on a daily basis. "Burdock" is the only foreign foodplant that was not considered edible, but has been cultivated as an edible vegetable. Umm… So surprised, don't you think so that?
"Burdock" has a very unique taste and aroma, as it was used as a medicinal herb. In addition to that, since it is the root of the plant, it also has a characteristic crunchy texture. Therefore, unique burdock dishes were devised to take advantage of them. "Kinpira" and "Ton-jiru (Pork Miso-soup)" are very well known dishes using "Burdock". Recently, due to the global health boom, "Burdock" cuisine is becoming more and more popular among people overseas. That's because it is rich in soluble fiber and minerals. You may have heard of "burdock tea"," "burdock chips", or "burdock salad". It has a unique taste, flavor, and crunchy texture, so it may not be to everyone's taste, but please try it at least once. You may find yourself unexpectedly addicted to it.
Typical "burdock" dishes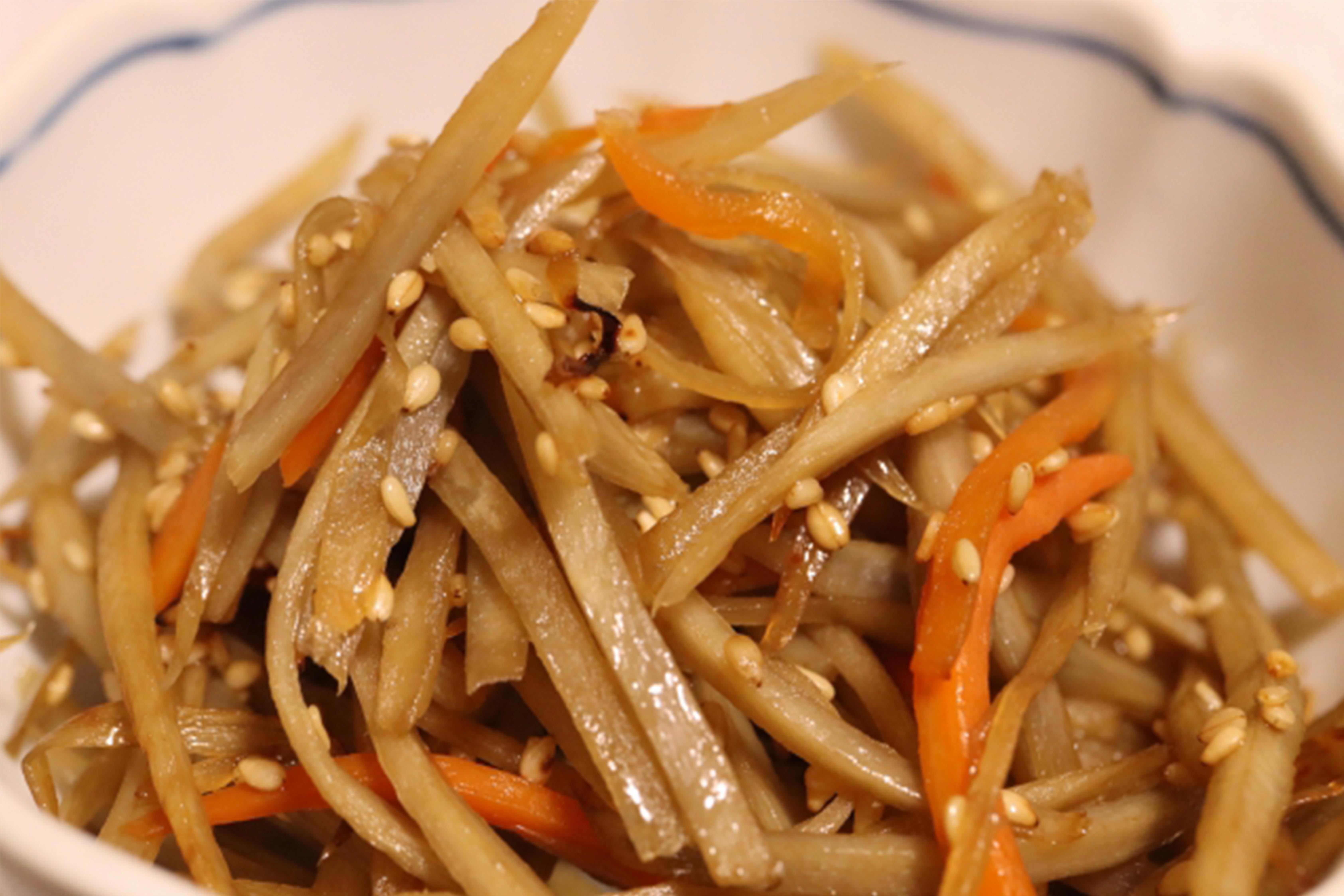 ・Kinpira
"Kinpira" is a dish made by stir-frying sliced burdock with sugar and soy sauce. It is loved for its unique sweet and spicy taste and flavor. Other root vegetables, such as carrots and lotus root, may also be used together. It tastes even better when sprinkled with sesame seeds.
・Ton-jiru
It's a soup dish you could call "Pork Miso-soup". One of the miso soup dishes using pork, burdock, radish, carrot, taro, and leek as ingredients. Pork and burdock are essential ingredients.
・Burdock Tea
A kind of herbal tea. It is made by boiling dried / roasted burdock after cutting it into small pieces. You can fully enjoy the taste and flavor of burdock. It is also full of burdock extract.
・Burdock Chips
This is one of the vegetable chips made from burdock. The number of commercially available products is increasing.
・Burdock Salad
A kind of salad dish made by boiling sliced burdock root and dressing it with mayonnaise or other sauce. Sometimes carrots are added. It has a reflesh and crispy texture. It's the common process when cooking burdock, it is very important to prepare the burdock by boiling just right and treating it to prevent discoloration.
・Tataki-gobo
A dish made by marinating burdock in seasonings such as soy sauce, vinegar, and sugar. It is a dish with a refreshing sweet and sour taste and a crunchy texture. It is known as one of the New Year's dishes in the Kinki region. The key to cooking this dish is to smash the burdock before boiling it to break up the fibers and make it easier for the flavors to soak in.
The story of how "Burdock" came to be known as an edible vegetable in Japan is a bit unique, isn't it? Isn't it interesting that the "Burdock" is now a traditional Japanese vegetable? Because of its long roots, it has been also used in New Year's dishes as a lucky charm to wish for long life. Other Japanese foods that are not eaten in other countries include "Konjac" and "Fugu(puffer fish)". These food ingredients and the dishes that use them have their own unique history, which is quite interesting to investigate in detail. It seems that there is a glimpse of a certain "aggressiveness" and "persistence" in them. Like, "We're going to make this ingredient taste good somehow"… Once again, we should learn from the "aggressiveness" and the "persistence" of our predecessors. These kinds of willingness to learn is very important for us to continue to deepen our understanding of foreign cultures.